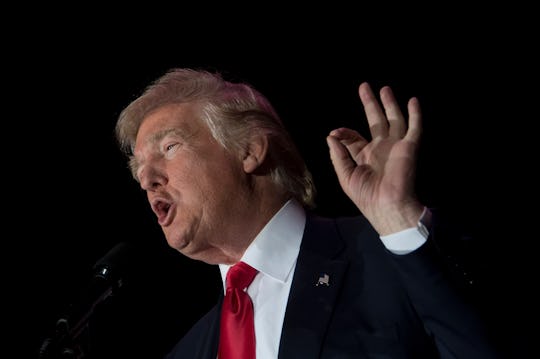 JIM WATSON/AFP/Getty Images
How Many Electoral Votes Did Trump Get? It Will Cement The Nov. 8 Vote
The Electoral College gathered on Monday to cast its final votes for President of the United States. This process has run fairly smoothly over its 227-year history, so much so that it has existed in our political system pretty much as a formality only, save for a few outlier elections. The 2016 presidential election, though, was anything but ordinary. Since Trump's victory in November, there have been efforts across the country to pressure members of the electoral college to vote against President-elect Trump. It seems these efforts were unsuccessful, as votes for Trump were rolling in as expected on Monday, with only one or two rogue votes here or there. How many electoral votes did Trump get?
Electoral vote tallies were rolling in throughout the day on Monday. This post will be updated throughout Monday to reflect the electoral vote tally. As of 5:30 p.m. Eastern Time, the Associated Press reported that Trump had amassed the necessary 270 electoral votes to win the presidency. His final tally was 301 electoral votes to Clinton's 163, and six went to other people, according to CNN.
Trump needs 270 votes to win, and received 306 when votes were counted in November. Clinton received 232, according to CNN. Trump was named the election winner in November, despite the fact that Hillary Clinton won the popular vote by roughly 2.6 million more ballots. However, the president-elect won more Electoral College votes by winning "many of the small, less populated states in the middle and souther parts of the country," according to Fox News. It certainly didn't hurt that he won big swing states like Florida, Pennsylvania, and Wisconsin, the latter of which has traditionally been considered part of a "blue wall" of left-leaning states, which helped tip the scales in Trump's favor this time around. Trump was able to reach the necessary 270 Electoral College votes before Clinton due to his critical victories in these states. The fact that Trump lost the election by a bigger popular vote margin than any other U.S. president in history, though, understandably enraged those who voted for Clinton.
Those who voted for Hillary (or against Trump) turned to the Electoral College in a last ditch effort to block the president-elect from ever taking office. As of Sunday, Dec. 18, some 4,910,146 people had signed a Change.org petition urging the Electoral College to vote against Trump. These efforts were largely unsuccessful, though. As of 2 p.m., only one Minnesota elector was disqualified for refusing to cast a vote for Clinton, according to CNN. He was replaced with an alternate elector (per the state's law), and that elector supported Clinton. Two electors from Texas also refused to support Trump, with one of them resigning so that he would not have to break his duty as an elector.