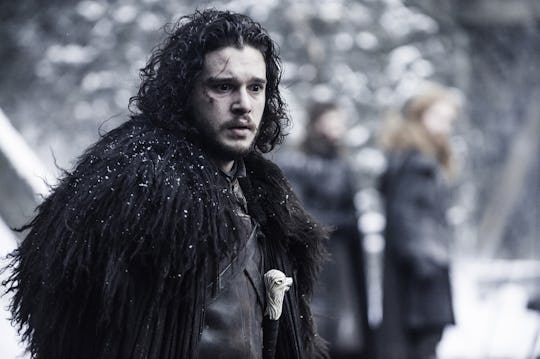 Helen Sloan/HBO
How Many Emmy Nominations Did 'Game Of Thrones' Get? It's An Award-Show Favorite
Game of Thrones has always been a favorite at the Emmy Awards, often sweeping through multiple categories to take home a crazy amount of wins. In fact, the show has been nominated a total of eight-six times since it began its run in 2011 and won twenty-six times, including last year's record-breaking twelve wins. Whether it's winning for the costumes, writing, acting, or for the series as a whole, Game of Thrones has proven to be as adept at the Emmys as its character are at vying for the Iron Throne. And Season 6 has been one of the show's most critically acclaimed, so it's definitely going to end up in more than a few categories this year. But how many Emmy nominations did Game of Thrones get?
The show's good history with the Emmys will likely work in its favor when it comes to scoring nominations this year. Game of Thrones was nominated for Outstanding Drama Series five years in a row before winning last year, and Peter Dinklage is almost always a guarantee in Outstanding Supporting Actor in a Drama. Along with a host of technical and behind the scenes awards, Game of Thrones has proven just how Emmy-worthy it is. And this year is no exception.
At the Thursday, July 14 announcement, Game of Thrones was nominated for Outstanding Direction For A Drama Series. It also earned some nods for direction, including two series-favorite episodes: the heartwrenching "The Door," directed by Jack Bender, and the stunning "The Battle of the Bastards," directed by Miguel Sapochnik.
The acting also grabbed more than a few nominations, with Peter Dinklage and Kit Harington garnering Outstanding Supporting Actor in a Drama Series noms. As for Outstanding Supporting Actress in a Drama Series, Lena Headey, Maisie Williams, and Emilia Clarke were all recognized for their work on the show. Max von Sydow also got some attention for his role as the Three-Eyed Raven, gaining a nomination for Outstanding Guest Actor in a Drama Series.
The show also received a ton of nominations for behind the scenes work. "The Door" was once again recognized, this time for Outstanding Sound Editing for a Series, and "The Battle of the Bastards" was nominated for Outstanding Writing in a Drama Series and Outstanding Visual Effects. There were also nominations for Outstanding Production Design for a Narrative Contemporary or Fantasy Program for three episodes ("Blood Of My Blood"; "The Broken Man"; "No One"), Outstanding Casting for a Drama Series, Outstanding Cinematography (for "Home"), Outstanding Hairstyling (for Jon Snow's post-resurrection manbun, I assume), Outstanding Makeup, and Outstanding Prothetic Makeup. There were also a few nods for editing, sound mixing, costumes, and stunts.
After such a great season, it's no wonder the show is racking up the award nominations. You've earned it, Game of Thrones.