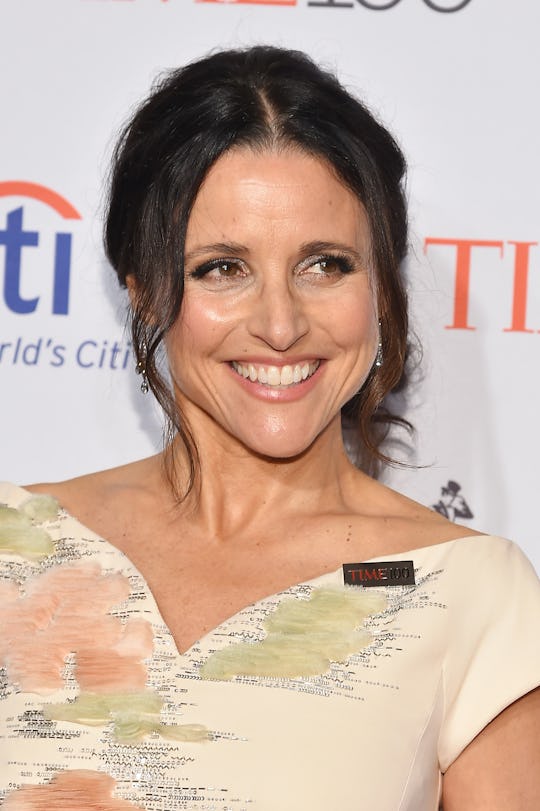 Ben Gabbe/Getty Images Entertainment/Getty Images
How Many Emmys Does Julia Louis Dreyfus Have? She's Set To Break A Record This Year
A very long time ago, there was a paranormal TV occurrence known as "The Seinfeld Curse." Entertainment lore had it that there was a "curse" following around the stars of Seinfeld, which made it so that every time one of them tried to helm a new sitcom, it would invariably get canceled within a year. Now, thanks to science, we know that the curse was a myth stemming from the fact that middle-aged straight white dudes make boring TV protagonists. Because you know escaped "the curse"? The series' only female lead. So how many Emmys does Julia Louis Dreyfus have? Content warning for the aforementioned dudes: unbridled female excellence up ahead.
This year, Julia Louis Dreyfus is up for an unbelievable seventeenth Emmy nomination, and that's only counting her acting noms. If we count her Outstanding Comedy Series nominations as an executive producer on Veep, then she's been nominated for 22 Emmys. Dreyfus has won six acting Emmys, plus one for executive producing the HBO show she currently stars in. That ties her with Candice Bergen and Mary Tyler Moore for most wins in the lead actress category — a record she's set to break if she wins again this year.
But staying in the mix consistently over the past 25 years is honestly staggering, and more than proves that the so-called "Seinfeld Curse" never applied to her to begin with. (Even her "flop" Watching Ellie lasted two seasons.)
Of the nine seasons that Seinfeld ran, Dreyfus was nominated for Outstanding Supporting Actress in a Comedy Series seven years in a row, winning in 1996. After a small break, she finally hit with a new sit-com, The New Adventures of Old Christine, which ran for five seasons. And yes, you guessed it, she was nominated for Outstanding Lead Actress in a Comedy Series for every single season of that show's run. She won the award for her work on the first season, saying in her acceptance speech, "I'm not somebody who really believes in curses, but curse this, baby!"
After New Adventures wrapped, it was only two years before Dreyfus was back on the award show circuit, this time with Veep, on which she has been nominated for both Outstanding Comedy Series and Outstanding Lead Actress in a Comedy Series for each of the show's five seasons. She finally took home the Emmy for Outstanding Comedy Series in 2015, but she's won the Outstanding Lead Actress in a Comedy Series award literally every season that Veep has been on the air. It was borderline cruel of her to win it the season Amy Poehler, who she had been up against year after year, took her final turn as Leslie Knope on Parks and Recreation. But JLD cannot and will not be stopped, even by the most lovable civil servant the world will ever know.