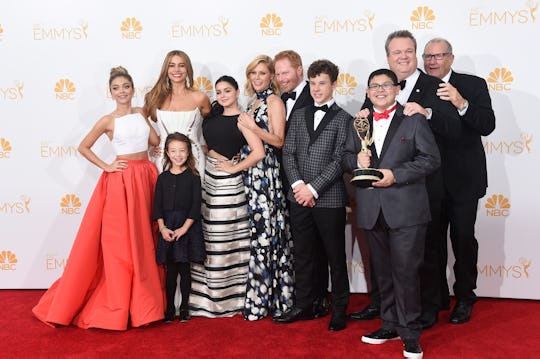 Jason Merritt/Getty Images Entertainment/Getty Images
How Many Emmys Does 'Modern Family' Have? Too Many To Count
When it comes to the Emmys, Modern Family is a favorite. Since the show first aired in 2009 it has been nominated and won at least one Emmy every single year. To say the show is successful would be an understatement. So how many Emmys does Modern Family currently have? In total the family dramedy has earned 22 Emmys and is now up to 77 nominations, including the four nominations they received this year.
From the actors, writers, directors, and art directors, Modern Family has been nominated in almost every category. The show has been nominated for Outstanding Comedy Series every year since 2010 and tied with Fraiser, for having the longest winning streak for Best Comedy Series, when it won for the fifth straight time in 2014. Their streak was ended when they lost to Veep last year.
All of the actors that play parents on the show have been nominated more than once. Ty Burell has been nominated for every season, making him the most nominated cast member, and he's won two Emmys so far and may win another this year. His on-screen wife, Julie Bowen has been nominated six times and has also won twice. Ed O'Neil has been nominated three times, Sofía Vergara has four nominations under her belt, and Jesse Tyler Ferguson has five. Eric Stonestreet has been nominated three times and has won twice.
Modern Family has also won awards for Outstanding Directing for a Comedy Series, Oustanding Writing for a Comedy Series, Outstanding Casting for a Comedy Series, Outstanding Picture Editing, Outstanding Sound Mixing, and nominated for so many more. Although it's amazing how well Modern Family continues to do at the Emmys some are kind of tired of seeing them win every year. This year it'd be amazing to see other shows and actors win Emmys but when it comes to the Emmys there's always favorites that tend to win year after year whether they deserve to or not. We'll just have to wait and see what shows and actors come out on top in the Comedy categories this year.
Make sure to tune into ABC on Sept. 18 at 5 p.m. PDT to see this years Emmy Awards Ceremony.