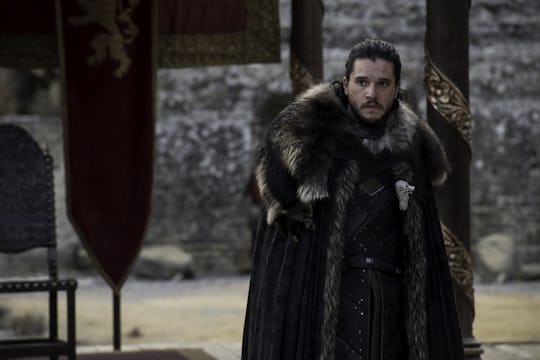 Macall B. Polay/HBO
'Game Of Thrones' Season 8 Will Have Very Few Episodes
Many fans were probably surprised when they discovered the season finale of Game of Thrones is airing on Sunday. Unlike the past seasons, Season 7 is only seven episode longs, and though that's disappointing to viewers, they'll be even more disappointed when they learn just how short the final season will be. So how many episodes are in Game of Thrones Season 8? The final season will be the shortest one yet.
Season 8 will only have six episodes, and while that's certainly upsetting, there is an upside to it. The episodes will most likely be longer than the regular one-hour episodes. In fact, the HBO programming president, Casey Bloys, revealed at the Television Critic's Association's summer press tour that episodes could end up being as long as two hours, though he did say that could be "excessive." Fans would probably disagree.
A lot of people are already excited about the length of the Season 7 finale, which will be the longest episode in the show's history, clocking in at 79 minutes and 43 seconds. The episode, titled "The Dragon and the Wolf," will see the meeting of the three biggest players in the game right now: Cersei Lannister, Daenerys Targaryen, and Jon Snow. It will also include a reunion between the remaining Lannisters, and while Tyrion already met with Jaime, this will be the first time Cersei comes face-to-face with her little brother since he killed their father, Tywin.
Fans expect the episode to be a game-changer as this is the first time so many important characters have been together at once. And while a lot has already been revealed this season (like the fact that Rhaegar and Lyanna were officially married, making Jon not a bastard after all), there's still a lot of questions that need to be answered. Is Cersei really pregnant? What is she planning for this big meeting? Will she try to kill Danerys and Jon? Will Jon's true parentage finally be revealed to him?
Besides questions surrounding this meet up, there is still the big question of what's going on with the Stark sisters? Right now, it appears that Littlefinger's plans to come between Sansa and Arya is working but is it really? Or is it possible the Stark siblings are actually working against him and by the end of the finale, he'll finally meet his demise?
On Game of Thrones, it's become clear anything is possible. It's well known that no one is safe, and any of your favorite characters could die at any moment. Will lives be lost in the Season 7 finale? Fans will find out soon enough.