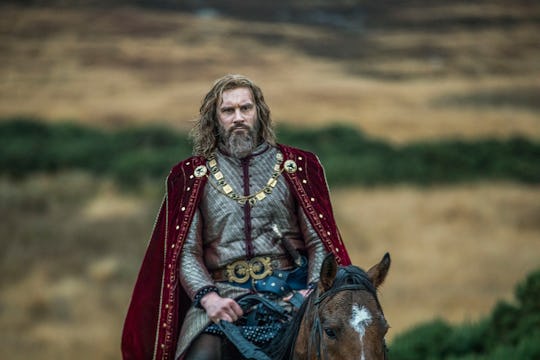 Jonathan Hession/History Channel
The Episode Count For 'Vikings' Season 5 Part 2 Will Be Worth The 10 Month Wait
When Vikings Season 5 premiered in November 2017, it came with the promise of a much larger season than most of the seasons before it. Instead of having the standard 10, it was given a 20 episode order, much like Season 4 had been granted. Still, after the first part of the season concluded in January 2018, fans were left wondering: how many episodes are in Vikings Season 5 Part 2? Like any TV show, you'd expect the season to air in its entirety or, at the very least, not go on such a prolonged break. But when Season 5 returns on Wednesday, Part 2 will have 10 episodes left to conclude the season and flesh out all of the cliffhangers the first half of the season left behind.
Season 5 Part 1 ended with a handful of deaths and some characters' fates left up in the air. Viewers also saw Rollo return home to Kattegat, which will be a big part of Season 5 Part 2. Vikings creator Michael Hirst revealed to Entertainment Tonight that Rollo came back to deal with some unfinished business.
"He's come back to deal with things which were never dealt with in the past. And we're going back to Season 1 here, where there were huge questions about his relationship, and Ragnar's relationship with Lagertha, and what had actually happened between them all – and frankly, whose son Bjorn was," Hirst said. "So Rollo is sailing back to deal with things that have been on his mind for a long time, and it's pretty powerful stuff, I must say."
At the end of Part 1 of Season 5, Lagertha was at something of a crossroads as she tried again to figure out if she could be be made queen in Kattegat under Ivar's rule. It's unclear what her role will be moving forward after losing such an important battle with Ivar, but there is speculation that the actress could be on her way out, come the end of Season 5. Katheryn Winnick, who plays Lagertha on Vikings, is going to be in the upcoming Netflix series Wu Assassins, so if that becomes her permanent home, then the second half of Season 5 could be the end of Lagertha.
Since the mid-season finale felt like an actual season finale, Vikings Season 5 Part 2 might feel like a whole new season when it comes back. There may be new characters as well to start off the second half of an already tumultuous season. Deadline reported that Danila Kozlovsky will play Oleg the Prophet, who was a real life 10th century Varangian prince, in Season 6, so there could be some setup for that. The show may take its creative liberties when necessary, but the characters and big battles are still based on historical events, so Oleg's entrance into the show will likely be as organic as possible.
It's unclear if the History Channel will continue in this format of a 20 episode season split into two parts to stretch out the season but it was adopted for Season 4 and now Season 5 has had the same formula. While it's not the most fun thing in the world for fans to have to wait several months in between the two parts per season, it does mean double the episodes each season.
And the 10 month hiatus has allowed plenty of time for Vikings fans to theorize and try to figure out what comes next. With potential cast exits and new characters coming in, Season 5 Part 2 is bound to be as heart pounding, if not more so, than the first half was.
This first-time mom wants to have a home birth, but is she ready? Watch how a doula supports a military mom who's determined to have a home birth in Episode One of Romper's Doula Diaries, Season Two, below. Visit Bustle Digital Group's YouTube page for the next three episodes, launching every Monday starting November 26.