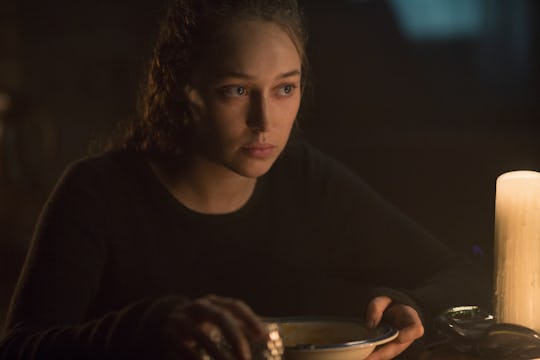 Ryan Green/AMC
Here's How Many Episodes Are Left In 'Fear The Walking Dead'
Just when the action was starting to build on Season 4 of Fear the Walking Dead, the show went on a mid-season hiatus. Now that the season has returned, fans are excited to get back the action, but how much longer will the season last? So how many episodes are left on Fear of the Walking Dead? Because fans just can't seem to get enough.
The second half of Season 4 consists of a total of eight episodes, meaning that two weeks into Part 2, there are only 6 episodes left of the season. New episodes of Fear the Walking Dead air every Sunday on AMC, and will end with the season finale on September 30. But luckily for fans, the show won't end with Season 4. According to Variety, the series was renewed for a fifth season last month, and will likely premiere in the spring of 2019.
The mid-season finale ended with a huge shocker for fans when the show's main lead, Madison Clark, sacrificed herself to save her friends. Kim Dickens, who plays Madison Clark on the show, has been a series regular from the very beginning, and while many supporting characters have come and gone, her character remained as a constant force throughout the first three seasons. It is odd enough when a supporting character dies on a show, but to lose the series' lead in such an abrupt way was hard for fans to swallow.
Showrunners Ian Goldberg and Andrew Chambliss talked to Entertainment Weekly about the decision to kill off the character, and how they think it will affect the overall storyline. "It was a story decision. From the beginning, we talked about this season as being a journey from hopelessness to hope, and hope was really the kernel of the emotional story we wanted to tell this year," said Goldberg.
Chambliss added that Madison's character arc was developed in a way that could end in self-sacrifice. "So much of her story this season was about her having finally found this place for her family where they could have a better life, and we saw how important that was to her," said Chambliss. "And when it came under threat, she went the distance to make sure her family would survive — and also all the people that they had saved would survive."
In an interview with Entertainment Weekly, Dickens discussed how heartbreaking it was for her to leave the show, a decision she learned about a month prior to filming the episode with her character's demise. "Well, it was shocking. Obviously it was shocking to me and it was disappointing. It was heartbreaking. I have loved this character, I've loved playing this character, I've loved this show, and I'm so proud to have been a strong female empowered lead of a genre show," said Dickens. "But you know, it's in the hands of the writers and the producers, and that's the fate that befalls so many of the characters in this genre. Basically, the message is, no one's safe. And these kinds of deaths will ultimately propel the story of the other characters into other places."
Even though Madison's character is dead, the showrunners promise that the rest of the season will have plenty of stories to bank on. In the same interview, they told Entertainment Weekly that they were going to explore the storylines of Alicia, Luciana, and Strand, along with Morgan, John and June. "So there's a lot to come," said Goldberg. "But they have a new story and emotions that we're gonna explore with these people going forward."