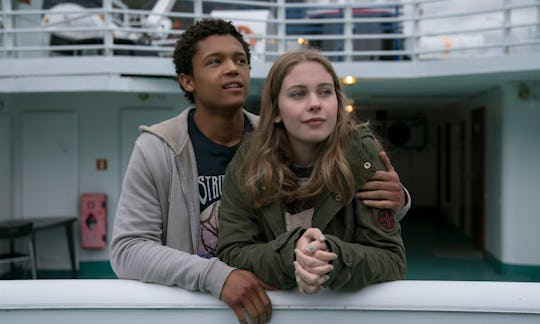 Aimee Spinks / Netflix
Netflix's New Supernatural Series 'The Innocents' Might Be Your New Obsession
Netflix has just released its new sci-fi series, The Innocents, and if it is anything like Stranger Things, people will be talking about it incessantly for the next few months. The show is about a young couple, Harry and June, who run away to create a new life together, only to be blindsided by June's newfound shape-shifting abilities. So how many episodes is The Innocents? Because if this sounds like a series you could really get into, you'll need to plan your schedule accordingly.
Luckily, it won't take you too much time to get through the season. According to Netflix, The Innocents will debut with eight episodes, each running a little less than an hour. The show was brought to the streamer by showrunners Simon Duric and Hania Elkington, and stars newcomers Sorcha Groundsell and Percelle Ascott as the young couple, along with Memento actor Guy Pearce. True to Netflix's style of release, the entire series will be released all at once, with all eight episodes ready to stream on Friday, August 24.
The series is an addition to an already growing list of Young Adult content on Netflix, which includes hit series like 13 Reasons Why and Everything Sucks!. Just recently, the streamer released the controversial highschool comedy, Insatiable, along with original teen movies Alex Strangelove and To All The Boys I've Loved Before. If Netflix is hoping to expand their programming to fit a larger teen audience, shows like The Innocents and their October release of The Chilling Adventures of Sabrina should make a huge difference.
While The Innocents centers around a teen romance, it still has all the elements of an intense sci-fi drama. That's probably because the show's writers combined their own styles into its early development. In an interview with Decider, Duric and Elkington talked about their creative inspiration for the series. "Simon had been tooling around with the idea of shapeshifting, shifting into animals, maybe brother and sister, and I'd been thinking about a young relationship with a very challenging female lead and how to really explore in a bold way some of the more difficult aspects of adolescence," Elkington said. "We suddenly realized with our very different inspirations and tastes, we could create something that felt very unusual."
While vampire, werewolf, and witch stories are everywhere, shapeshifting characters are relatively new. But it wasn't easy to come up with a backstory for the genre. In the same Decider interview, Druic and Elkington admitted that trying to figure out the mythology and rules for a new supernatural world took required some work. "Because we're not dealing with vampires or werewolves — you go, 'Shapeshifter,' and people go, 'Sorry, what? How does that work?" said Elkington. "So we spent a lot of time figuring out the rules, and where the gene has come from, and why it's manifesting in women. Lots of long nights drinking beer and getting into it."
I'm not a teen anymore, but as a huge fan of the supernatural, I'm pretty sure The Innocents is going to end up on my weekend marathon watch list. If you're planning to add the series to your Netflix and chill weekend, with just eight, hour-long episodes, you should be able to finish it in a couple of days. It'll be a good conversation point, because if The Innocents does anywhere as well as Stranger Things, you can bet people will be talking about it for the rest of the summer.