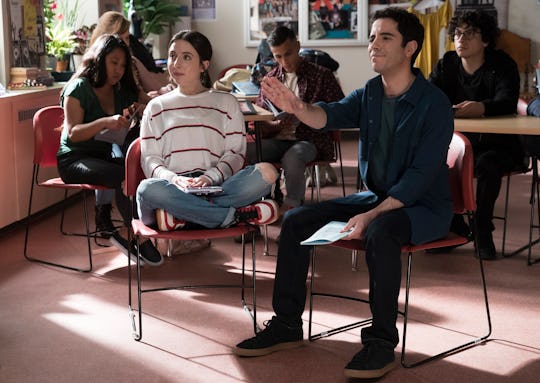 Eric McCandless/Freeform
Esther And Benji Return In Season 2 Of 'Alone Together'
Benji Aflalo and Esther Povitsky are bringing back the laughs with a second season of Alone Together on Freeform. The comedy follows the story of two platonic friends, Benji and Esther, as they try to find their place in the superficial, self-absorbed culture of Los Angeles. Season 1 felt like a short season, so fans of the show are wondering, how many episodes is Alone Together Season 2?
The series was renewed for a 10-episode second season last October, reported The Hollywood Reporter, months before Season 1 premiered. Season 2 of Alone Together premieres on Wednesday, August 1, with all 10 episodes available to stream on Freeform and Hulu, along with the 10-episode first season. With two seasons of the series debuting just eight months apart, there is hope that a third season will come back early next year, but there is still no official news on a Season 3 renewal.
Produced by the Lonely Planet team of Andy Samberg, Jorma Taccone, and Akiva Schaffer, Alone Together is the brainchild of stand-up comedians Aflalo and Povitsy. The duo wrote the series with inspiration from their own friendship, and in an interview with Tablet, Aflalo said that some parts of the show are based on their real life experiences. "Alone Together is somewhat autobiographical but it can vary from episode to episode," said Aflalo. "The road trip in season one is very much based on a real story. Other episodes can lean into stuff that writers and producers think are funny."
While the characters they portray on the show are not exact versions of themselves, the comedians found a way to turn their on-stage storytelling into a show for Freeform, which is home to popular shows like Pretty Little Liars and The Bold Type. In an interview with Variety, Povitsky said that the characters are on the show are exaggerated and delusional versions, but the comedians wanted to have a funny way to share their own experiences.
"It was born out of the reality of not being able to get a job, but it became the thing I really wanted most, and it also came from being a stand-up and realizing I do have something to say," Povitsky told Variety. "We sold it everywhere we pitched it, but we ended up choosing Freeform because they had nothing like us, and they really expressed that they really wanted us."
Chris D'Elia is set to return as Benji's newly rich older brother, and Edgar Blackmon will be returning as their best friend Jeff. You'll also see a few new characters this season, according to Entertainment Weekly, including The Nanny's Fran Drescher who will play Esther's "perfectly coiffed" mom. Carmen Electra is slated to play Tia, "a beautiful and mysterious woman who seduces Benji," and you'll also see appearances by Natasha Leggero, Maz Jobrani, and Danny Pudi. Adam Ruins Everything's Punam Patel will also join Season 2 of Alone Together for a recurring role as Tara, "Esther's friend from acting class six years ago."
Fans of the show may have been secretly hoping that Benji and Esther get together this season, but in a trailer for Season 2, there's no indication that they'll be anything more than just platonic friends. As misfit millennials, Benji and Esther would be perfect for each other, and it would be satisfying to see them find romance. But I think that it could take away from the charm of their dynamic, so I don't mind seeing them navigate the streets of L.A. as friends.
Season 2 of Alone Together premieres on Wednesday, August 1 on Freeform and Hulu.