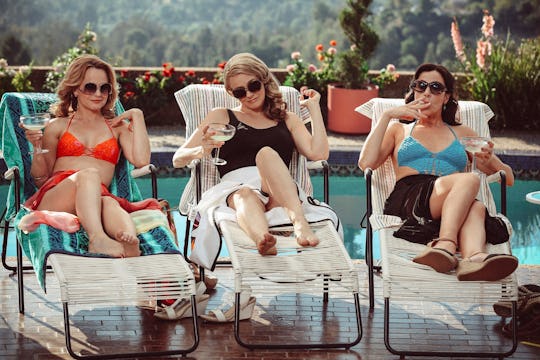 Paramount Network
'American Woman' Has The Full Season Treatment This Summer
Kyle Richards has put a lot of passion and dedication into her new show, American Woman, and after seeing the premiere episode, fans are hooked. The show flawlessly take you back in time to 1970's Los Angeles, where Bonnie Nolan is forced to figure out how to succeed as a single mom, after finding out her husband is cheating on her. Fans can't seem to get enough of the delicious characters and storyline, so they want to know exactly how many episodes is American Woman?
In a press release last year, Paramount Network revealed that the show was ordered as a 12-episode season. The series is loosely based on Kyle Richards' own childhood as a former child actor, and she works on the show as an executive producer. In an interview with Megyn Kelly Today, Kyle said that American Woman was a "love letter" to her late mom, Kathleen Richards, who passed away from cancer in 2002. During the interview, she explained:
"When my mom passed away, I was reflecting on her and I love to write, so I would write stories about her and growing up. I thought, 'I really want to make this into a TV show one day.' And here we are."
Kyle told Kelly that the show's premise was inspired by her own mother's drive and confidence, despite being thrust into the life of a single mother. Just like the show's character, Bonnie Nolan, Kathleen Richards also learned that her husband was cheating on her, and then separated from him. After finding herself as a single mom, Kathleen did the best she could at the time to find success for herself and her children. Kyle said:
"At that time, my mom was all of a sudden suddenly single. She didn't know about money or what they had, she didn't even have a checkbook. So when I was actually 10 years old, my mom got me a checkbook and I was allowed to have my 'unemployment checks' from my TV shows.She wanted me to take control and learn from a young age how to look after myself, because she didn't like finding herself in that position in the '70s"
Along with taking inspiration from Kyle's strong spirited mother, the show also highlights the struggle women have faced in the past, and unfortunately still face in today. Women are often expected to be demure and pleasant, and when they aren't, they get called all kinds of names, lose their jobs, and in some domestic cases, they end up being physically or sexually abused. Kyle told Kelly that her mom's confidence was way ahead of her time:
"My mom was a very strong, outspoken woman and in that time, women weren't supposed to be like that. Now it's like, 'boss lady' — that's a term now. But in the '70s, if you were strong and opinionated and outspoken, it was looked down upon. And my mom was that woman — very strong."
Bonnie Nolan, the character inspired by Kyle's mom, is being played by Clueless star Alicia Silverstone and American Beauty actress, Mena Suvari is cast as Bonnie's best friend Kathleen. Along with the cast's superb performances, the vintage feel of the show makes it super refreshing. Kyle has said that the producers have strived to keep everything as authentic as possible by using vintage clothing, jewelry, and props, and all that dedication has turned into 70's magic on screen.
So, what's to come for Bonnie Nolan and her crew this season? You'll just have to wait and watch. New episodes of American Woman air on Thursday nights, at 10 p.m. Eastern time on the Paramount Network.