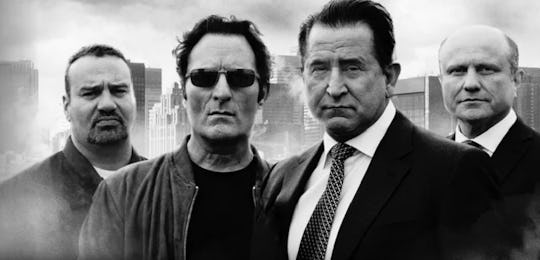 Netflix
The Short Yet Exciting First Season Of 'Bad Blood' Is Landing On Netflix
True crime fans rejoice: The Canadian TV series Bad Blood has come to Netflix. Based on the real story of the Rizzuto crime family in Montreal, the series aired for two seasons on Canadian network Citytv, and is now finally available internationally via Netflix. If you're debating diving right in, you may be wondering what kind of time commitment you're looking at. So exactly how many episodes is Bad Blood on Netflix?
Right now, Netflix has only made the first season of the series available for audiences. Season 1 of Bad Blood has just six episodes. It was actually initially intended as a miniseries, drawing from the book Business or Blood: Mafia Boss Vito Rizzuto's Last War. The story begins with Vito Rizzuto (portrayed by Golden Globe-winner Anthony LaPaglia, who starred in Without A Trace) who is the boss of his crime family. Things are running generally smoothly — that is, until he's put in prison for being an accessory to a series of murders that took place in New York in 1981.
Taking over for Vito while he's locked up is Declan Gardiner, the boss's right-hand man up until that point. Kim Coates (who starred as Alexander "Tig" Trager on Sons of Anarchy) plays Declan, who Vito entrusts with taking care of his family while he's in prison. Of course, as with any crime show, things don't go exactly as planned...
The first season takes place over several years, as Vito is serving his sentence. I won't give anything away, but the season ends on a fairly definitive note, in 2013. The source material, which was published in 2015, dries up around that time. However, this is an ongoing story, as the Rizzuto crime family is still very much active in Canada. So it would make sense that Season 2 would have plenty of material to draw from.
But that's not the direction they chose to take it. Series creator Simon Barry chose to continue the story based entirely on his own imagination, turning the loosely based true crime series into a fictional tale of a mafia organization. This is an understandable choice: It's not like Barry himself is involved in the crime himself, so he wouldn't be aware of what's currently going on.
Though the first season was intended to be a miniseries to stand on its own, fans must have been demanding more, because another eight episodes were ordered for Bad Blood Season 2. Declan remains the focal point of the show, but many new characters are introduced, including the Cosoleto and Langana families, who are also affiliated with crime-related activities. Actors Louis Ferreira (the Saw franchise), Daniel Kash (Orphan Black), and Melanie Scrofano (Wynonna Earp) are among those who take on main roles in the second season.
With no word on the status of a third season, the question now is: When will Season 2 be available for international streaming on Netflix? Season 1 aired on Citytv in the fall of 2017, and Season 2 just finished its run on Nov. 29. It seems likely that Netflix has obtained the rights for both seasons, but in order to create more hype around them, is delaying the release of the second season until sometime next year. Depending on the kind of views that Season 1 of Bad Blood brings in may determine when you can watch the follow-up. But for now, you can enjoy the first half of the enticing drama.
This first-time mom wants to have a home birth, but is she ready? Watch how a doula supports a military mom who's determined to have a home birth in Episode One of Romper's Doula Diaries, Season Two, below. Visit Bustle Digital Group's YouTube page for the next three episodes, launching Mondays in December.