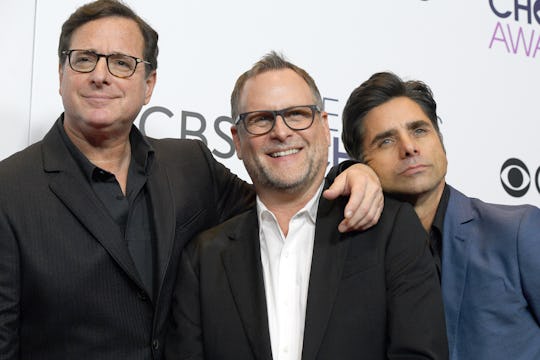 Kevork Djansezian/Getty Images Entertainment/Getty Images
'Fuller House' Wouldn't Be The Same Without Danny Tanner
The third season of Fuller House marks a monumental milestone. The decision to release the first half of the season on Sept. 22 stemmed from the fact that it just so happened to fall on the 30th anniversary of the original show's premiere. (Yes, Full House debuted for the very first time on Sept. 22 1987 and I officially feel very old.) And while the reboot focuses mainly on a new generation of characters, Danny Tanner has made various appearances on the show every now and again. So how many episodes is Bob Saget in on Fuller House Season 3? As of now, it's not clear how many exact episodes will include a special Danny Tanner cameo, but that's mainly because right now not all of the episodes are available on Netflix. (The second half of Season 3 will debut later this year.)
However, the Fuller House cast is not shy, so Instagram is full of cast photos that include everyone reuniting on the set — including Saget. As I just mentioned, this third season is being split into two parts, so there are currently nine episodes available for streaming right now, and then the other nine episodes will pop up at some point down the line. (Right now, Part 2 premiere date is still TBD.) Season 3 is set in the summer time and will center around all the characters we've come to love as they enjoy some fun in the sun.
Exactly how Danny fits into the plot just remains to be seen, though. Saget seems really excited to be back on the Fuller House set, however. He posted a picture on Facebook in April writing: "Fuller House Season 3 is underway. How I love these peeps..."
Even with all the pictures from the set though, details about the full season are pretty scarce. There are a few things fans can assume, though. Saget will definitely be around throughout the season, but don't hold your breath for a glimpse of Mary-Kate and Ashley Olson as Michelle. (Though some more corny, Easter egg-y jokes about their absence are all but guaranteed.)
Another sure bet? Stephanie, played by Jodi Sweetin, will be walking around on crutches. Sweetin had a real life injury last year, jumping over a fence to retrieve her kids' toy, and broke her tibia and ankle. According to Sweetin and Bure, it will be a part of the summer-themed plot. Sweetin said, "There's no hiding that I can't walk. And I can only be a houseplant in so many episodes where I'm just stuck somewhere."
"They have to write it in," Bure added. Which means none of the usual Stephanie dance numbers this year, which is sort of a pity, since they were one of the highlights of the series. But I think we can all agree that an injured Stephanie is certainly better than no Stephanie at all. So she'll definitely serve as a series regular throughout the third installment.
Maybe Danny will come home to help his daughter through the worst of the injury or something. Or maybe his cameo will involve something completely unrelated to that plot development. Although we don't have a lot of info about just when Saget will make an appearance, there's no way he would miss it. And I mean, let's face it — it just wouldn't be the same without him.
Watch Romper's new video series, Romper's Doula Diaries:
Check out the entire Romper's Doula Diaries series and other videos on Facebook and the Bustle app across Apple TV, Roku, and Amazon Fire TV.