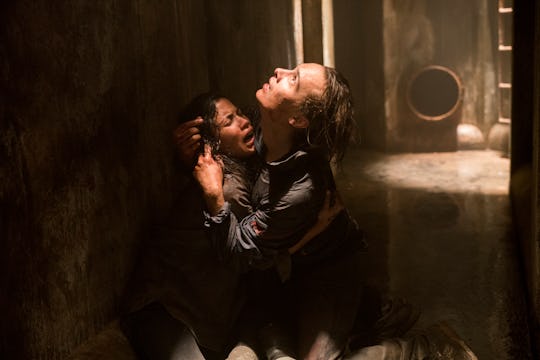 Michael Desmond/AMC
'Fear The Walking Dead' Season 3 Will Be Action-Packed
The third season of Fear the Walking Dead is finally here and it's time to see how everyone is fairing during the ongoing zombie apocalypse. The series, which is a prequel to The Walking Dead, has seen almost as much success as its predecessor, but the seasons are still a bit shorter than some of you may suspect. So how many episodes is Fear the Walking Dead Season 3? The new season will be 16 episodes — one episode longer than the second season and a whole 10 episodes longer than the first.
Season 3 pretty much picks up where the second season left off. Everyone is still trying to figure how to survive in this new world overrun with zombies and people basically make up the rules as they go. In the premiere, the families will be brought together at the U.S.-Mexico border and due to the apocalypse, international borders are a bit blurred and practically non-existent.
Madison and Travis have reconnected while Alicia struggles to deal with the fact that she murdered Andres. Meanwhile, Madison's son Nick is struggling as a leader, especially after Luciana was ambushed by an American militia group, and Strand is attempting to regain his wealth by harnessing the new world's currency. Lastly, Ofelia's still being held captive and she may have to do something terrible in order to escape. (Sounds like they could use Rick Grimes' help, don't you think?)
The new season will also include a lot of new characters. Madison's group will find themselves at Broke Jaw Ranch, where they'll meet Jeremiah Otto and his sons who were preparing for the end, pre-apocalypse. Two of those sons are Jake and Troy, who have different mothers and are polar opposites. Though they both grew up in the same community, Jake has a different world view than his family. "Jake left to go study constitutional law over on the east coast for a number years, so there's been a huge separation between him and his family," Sam Underwood, who plays the character, told Comicbook.com.
This tension between the brothers will definitely come into play with Madison & Co. coming to their ranch. More than likely, there will be plenty of disagreements between everyone on how things should be done on the ranch and how best to protect themselves from the zombies.
As always, it'll be interesting to see who makes it out of this season alive or who succumbs to the zombies or some other unfortunate demise. Hopefully, your faves make it to the end of this season in one piece.
Fear the Walking Dead Season 3 premieres on Sunday, June 4 at 9 p.m. ET on AMC.