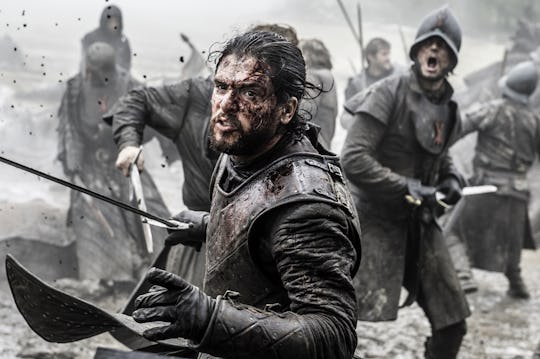 Helen Sloan/HBO
How Many Episodes Is 'Game Of Thrones' Season 7? Not Enough
With only one episode remaining in Game of Thrones' Season 6, it's hard not to look forward to the future. While it will be some months before there's a new season to satisfy fans' craving for fire and blood, there's already a little bit of news about the next season of the show – and honestly, it might be kind of a downer. It looks like getting more Game of Thrones will also mean getting less. That puzzling riddle has the same answer as one simple question: how many episodes is Game of Thrones Season 7 going to have?
Unlike the usual ten episodes, the seventh season of Game of Thrones will only have a grand total of seven episodes – and the eighth season will have even less. Now that the story has begun to move forward at a relatively brisk pace, the end is truly in sight. Though it will be split over two seasons, there will only be thirteen episodes left of the series ever. That's seriously disappointing news to anyone who loves the show, but it's a sad fact that every good thing must come to an end. And hey – spinoffs are always a possibility, right?
The news was confirmed by a Vanity Fair interview with director Jack Bender, who has worked with the show twice before. Bender was responsible for one of Season 6's most the heart-wrenching episodes, "The Door." When asked if he was returning for the next season, Bender had this to say: "I don't know the answer to that. They're only doing seven [episodes], and they've got their regulars who have done it forever."
That wasn't the first time the idea of a shorter number of future episodes surfaced. Earlier this year, showrunner David Benioff told Variety that he thought they were "down to our final 13 episodes after [Season 6]. We're heading into the final lap." He went on to add that that was just a "guess" because nothing was "set in stone" yet. While at the time that was the tentative plan in place, now it seems to be more concrete.
Despite how sad it is knowing that Game of Thrones is coming to an end, it's possible the shorter seasons could end up being good for the show. Shorter seasons can mean tighter plotting and a stronger focus – basically all of the good stuff and none of the filler. There might be only thirteen episodes left altogether, but they're bound to be an action-packed thirteen. Silver linings, right?