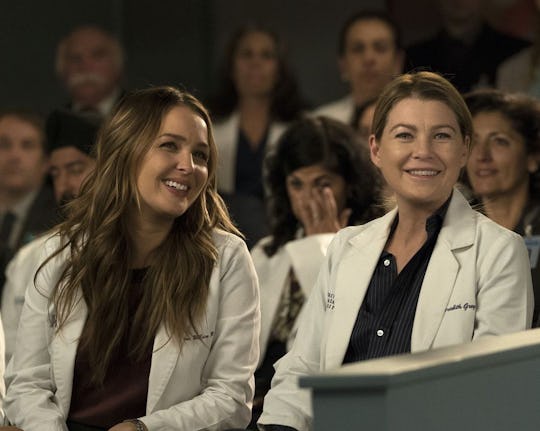 Byron Cohen/ABC
'Grey's Anatomy' Season 14 Still Has A Few Surprises In Store
With How to Get Away with Murder already done with its current season and Scandal wrapping up its final season ever, it's not surprising that fans are wondering when this season of Grey's Anatomy will come to a close. To answer that question, it's best to know how many episodes are in Grey's Anatomy Season 14. Thankfully, there's still a lot more weeks of scrubbing in to go.
Originally, Season 14 was only supposed to be 22 episodes, the typical length for most TV dramas, but five episodes into this season ABC decided to extend the season to 24 episodes instead. Thus, there are still seven whole episodes left in this season of Grey's and a lot can, and most likely will, happen in that time.
The preview for the next episode of Grey's seems to hint at a lot of drama to come. April seems to finally be on the path to redemption after ending up in a really bad place emotionally. Now that she's trying to get her life back on track, it looks like she'll attempt to reconcile with Jackson, which doesn't make Maggie happy in the slightest.
Then there's Alex and Amelia's continued efforts to save the life of their young patient with a brain tumor. Based on how Alex grabs Dr. Koracick in the preview, it unfortunately looks like that won't end well. There's also Arizona's patient whose only shot at survival is the same experimental procedure Alex and Amelia planned on using for their patient. So there are a lot of lives on the line right now.
Besides that, Alex and Jo finally got engaged so there may also be a wedding before this season is finished, unless something — or someone — gets in the way. It was recently announced that Nurse Olivia, who hasn't been seen since Season 6, will be returning to the show this month. If you don't recall, Olivia was the nurse who slept with George and gave him syphilis, which she contracted from sleeping with Alex.
Apparently when she pops back up at Grey Sloan Memorial Hospital she'll be arriving with a son. There's no details yet on how old her son is, but thankfully it's quite unlikely the kid is Alex's since the last time they slept together was when Alex cheated on Izzie, which happened way before Olivia left the show. With that in mind, it seems Olivia will only be a blast from the past and that her son most likely needs Alex's help.
Another major plot point the season has to fulfill before it closes is the winner of the Grey Sloan Surgical Innovation contest. Most of the doctors have thrown their hats into the rig to compete, but some have been struggling with their projects. Meredith was set to change general surgery for the better with her polymers, but her mother's friend-turned-enemy shut that down when she refused to give Meredith her patent unless Meredith told the world she should also get credit for Ellis' Harper Avery award.
Still, thanks to Jo, Meredith is now determined to find an alternative so she can keep her project going. On top of that, the latest episode hinted at the possibility of a new love interest for her. After helping a transplant surgeon, Nick Mars, prevent his kidney transplant from being rejected, Meredith revealed to Alex that she felt something with him she hadn't felt in a long time — since Derek.
Obviously, there's still a lot to look forward to in this season of Grey's and it'll be exciting to see how everything plays out. Make sure to keep watching Grey's Anatomy on Thursdays at 8 p.m. EST on ABC.
Check out Romper's new video series, Romper's Doula Diaries:
Watch full episodes of Romper's Doula Diaries on Facebook Watch.