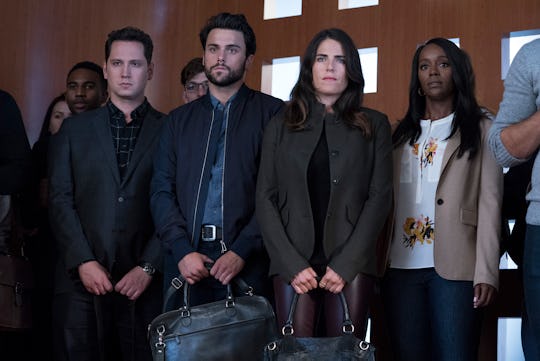 Mitch Haaseth/ABC
'How To Get Away With Murder' Season 5 Is Going To Be Intense
After saying goodbye to Scandal, Shondaland fans can still find comfort knowing that they still have How to Get Away with Murder to look forward to. Last season ended with a mysterious new character and a questionable murder, and fans are hoping to get answers in the upcoming new season. But exactly how many episodes is HTGAWM Season 5? Because fans can't get enough of this Shonda Rhimes drama.
Season 5 of How to Get Away with Murder will air 15 episodes, just like the past four seasons of the show. Unlike Scandal and Grey's Anatomy — which have fluctuated from 16 to 24 episodes each season — this Shondaland series has stayed consistent in its length and schedule. All four previous seasons of How to Get Away with Murder have premiered during the last week of September and run until February-March. Season 5 has a similar run schedule, with a premiere date of Sept. 27.
After the dramatic twists and turns in Season 4, fans are anxious to get back into the thick of the mystery. Last season, most of the group was falling apart, and in the season finale, fans were left wondering if Laurel (Karla Souza) had actually killed her mother. She finally got her baby back and saw her dad go to jail, but it was the scratches all over her arms that hinted she may have gotten away with murder.
Fans were also introduced to a new character, Gabriel Maddox (Rome Flynn), who just may be Bonnie's (Liza Weil) son. In Season 4, Bonnie revealed that she was raped when she was 15, and became pregnant, but her father told her the baby died. Denver (Benito Martinez) — who had been keeping tabs on Annalise's (Viola Davis) team — had files hinting that Bonnie's child may have survived. Deadline reported that actor Rome Flynn was promoted to series regular for Season 5, so that means whether he's Bonnie's son or not, fans will be seeing much more of Gabriel Maddox in Season 5.
According to Deadline, Academy Award-winning actor Timothy Hutton is also joining the cast as a regular in Season 5, and will be playing a character named Emmet Crawford. No details have been released about the character or his connection to the rest of the group, so that will be another fun mystery to watch unfold this season.
It looks like Season 5 will be diving into the characters' pasts and will explore their relationships. In an interview with Entertainment Weekly, How to Get Away with Murder executive producer Pete Nowalk revealed that the new season will explore the group's connection. "The group can't escape each other and I think they are resigned to that fact. Anytime they try to separate, they're all pulled back together, so I think they are more accepting of the fact that they are bound by blood," said Nowalk. "That said, there's going to be new friendships and new conflicts that arise, in terms of romantic relationships and in terms of friendships."
The Season 5 premiere episode, "Your Funeral," will start with a flash-forward sequence which will introduce a new mystery, ABC noted in a press release. Annalise will be busy evaluating offers from new firms and will be looking for new students to join her legal clinic at Middleton. So, with all the new characters, storylines, and mysteries abound, Shondaland fans can look forward to a season full of dark secrets and drama. And luckily, they'll get a full 15-episode season to enjoy.
How to Get Away with Murder premieres on Thursday, Sept. 27 at 10 p.m. ET on ABC.