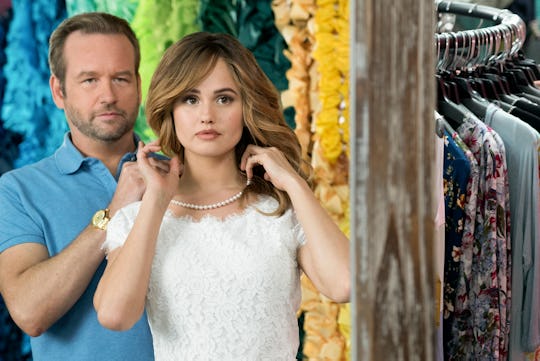 Annette Brown/Netflix
Netflix's 'Insatiable' Is Getting A Full Season
Insatiable is a new Netflix comedy series that follows Patty, a newly slim teen, as she exacts revenge on the high school classmates that once bullied her about her weight. So exactly how many episodes is Insatiable? Because the streaming service will premiere the entire season on August 10.
Insatiable's debut season will hit Netflix with 12 episodes, each approximately 40-minutes long. But the show is already debuting with some controversy. The show's premise and trailer have been called fat-phobic and inspired tons of rage online on Twitter and elsewhere. A Change.org petition to cancel the show has received more than 225,000 signatures. The petitioners believe that the show will promote "a devastation of self-doubt in the minds of young girls who will think that to be happy and be worthy, they need to lose weight."
However, both Netflix and the show's creator, Lauren Gussis, continue to stand behind the project. Netflix's vice president of original content, Cindy Holland, recently defended the series at the Television Critics Association press tour, reported IndieWire. She said that message of the show was to ultimately be "comfortable with yourself," and that the fat-shaming seen is satirical. Its "criticism is embedded within the show itself," she explained. Holland also noted that Gussis "felt very strongly about exploring those [body] issues, based on her experience, in an over-the-top satirical way."
In the official synopsis, Netflix describes Insatiable as "a dark, twisted revenge comedy starring Debby Ryan, Dallas Roberts, and Alyssa Milano. For years, Patty (Ryan) has been bullied, ignored, and underestimated by those around her because of her weight. But now that she finds herself suddenly thin, Patty is out for payback against anyone who has ever made her feel bad about herself."
Women face body-shaming everyday, so I can understand the criticism. But Gussis, who has also served as a producer on Dexter and Once Upon A Time, is standing by her vision and message for Insatiable. In a tweet, she defended the show's premise with her own story of childhood bullying over her weight. "I'm still not comfortable in my skin… but I'm trying to share my insides — to share my pain and vulnerability through humor. That's just my way," she said. "This show is a cautionary tale about how damaging it can be to believe the outsides are more important — to judge without going deeper. Please give the show a chance."
Many people on Twitter sympathized with Gussis' story, but the idea that Patty was only able to exact revenge after losing weight still rubbed many the wrong way. One Twitter user responded to Gussis' tweet by asking, "Why couldn't she have stayed fat and still gotten revenge? I'm not trying to minimize your struggles but I'm just wondering why you didn't think Patty staying fat could have told the story just as well?"
Despite the backlash, Netflix and Insatiable's cast and crew are standing behind the show and are hoping that viewers will give it a chance. Insatiable debuts on Friday, August 10 on Netflix.