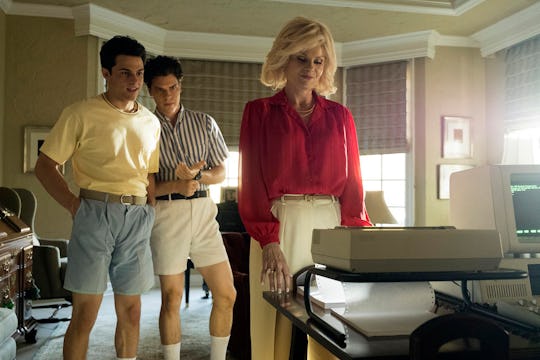 Justin Lubin/NBC
NBC's New 'Law & Order True Crime' Series Will Delve Into The Menendez Murders
Law & Order is jumping on the true crime success of cable's American Crime Story, Netflix's Making a Murderer, and NPR's Serial, hoping that the format which has proved so successful for other media will also work on network primetime. Its first installment of a dramatized true crime anthology follows the trial of Lyle and Erik Menendez, who were convicted of murdering their parents in 1996. So how many episodes is Law & Order True Crime: The Menendez Murders? Luckily, viewers will be spared the average Law & Order franchise pickup of 22 episodes.
The presumably more refined anthology will span eight episodes for its first season, opening with the murder of Jose and Kitty Menendez. Then, it unpacks everything that happened after the brothers made their infamous 911 call, pretending to have stumbled upon the bodies in shock and horror. Their all-female defense team is played by four-time Emmy winner Edie Falco and Masters of Sex alum Julianne Nicholson. Additionaly, '90s TV staple Anthony Edwards (best known for his role on ER) plays Judge Stanley Weisberg, who oversaw the trial. The Good Wife's Josh Charles plays the brothers' psychiatrist and Heather Graham plays his mistress, who first uncovered the boys' taped confession of the murder.
It's clear from the deep bench of acting talent that Law & Order is going for the same heft as American Crime Story: The People vs O.J. Simpson, right down to fleshing out the lawyers' personal lives. Falco plays Leslie Abramson, the first chair defense lawyer who had as much going on behind the scenes as Marcia Clark did during the O.J. trial. Executive producer Rene Balcer tells Variety:
We wanted to make her available to the audience, make her alive, set up certain things that are going on in her life. You have this very dysfunctional family in the Menendez family, and then you have her trying to rectify and deal with issues in her own family as she's trying to adopt a kid. She thinks those boys did it, but she thinks there's probably a big tragedy behind it — a family secret that needs to be uncovered. Because that's been her experience.
And the connections to the Simpson trial don't end there. In 2004, Abramson actually took over for Robert Shapiro, part of the so-called "Dream Team" of Simpson's defense (played by John Travolta on American Crime Story), on another high-profile case. She replaced Shapiro as counsel for prolific record producer Phil Spector when he was charged with murdering actress Lana Carson. Abramson lost both the Menendez case and the Spector case, and all three defendants were eventually convicted of murder.
Part of the idea behind Law & Order True Crime: The Menendez Brothers is to analyze what drove the 18 and 21-year-old brothers to murder their parents using a 12-gauge shotgun in their upscale Beverly Hills home, which had been rented by the likes of Prince and Elton John. During the trial, allegations of physical and sexual abuse were brought forward against the deceased Menendez parents, although the series apparently takes those allegations as fact and chooses to depict scenes of abuse in flashbacks to construct the Menendez brothers' motive. (In real life, the allegations were never proven.)
"You get to understand the trauma they experienced and the abuse of young kids all the way through, for Erik, a few weeks before the murders," Miles Gaston Villanueva, who plays Erik, told Variety. "There's a lot we're going to show the audience that propelled them."
In the end, though, Lyle and Erik were both convicted of murder in the first degree and conspiracy to commit murder, earning them both sentences of life in prison without parole.
Watch Romper's new video series, Romper's Doula Diaries:
Check out the entire Romper's Doula Diaries series and other videos on Facebook and the Bustle app across Apple TV, Roku, and Amazon Fire TV.