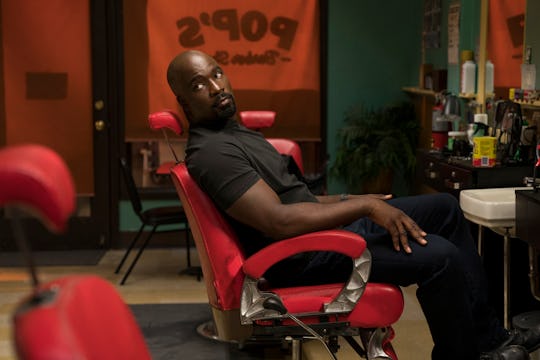 David Lee/Netflix
At Long Last Season 2 Of 'Luke Cage' Is Here
It's been almost two years since the first season of Luke Cage premiered on Netflix and fans are ready to finally see what's next for the superhero. On Wednesday the entire second season was released at once, as most Netflix shows are, so you may be wondering how many episodes is Luke Cage Season 2?
Thankfully, just like the first season, Season 2 is 13 episodes long, which is plenty of Luke Cage to at least get you through the weekend. And there will be a lot going on in Harlem during the second season. The first season set Luke Cage up as a hero and Season 2 finds Luke Cage feeling pretty comfortable as the urban legend that protects Harlem. Unfortunately for him, he's about to be taken down a peg or two. Fans are hoping to see new bad guys and new team ups in the series' second season.
Season 2 will introduce a new villain, though if you're familiar with the comics he won't seem new to you at all. Bushmaster, played by Mustafa Shakir, makes his debut this season. Bushmaster uses his own enhanced powers and killer skills in the Afro-Brazilian martial art of capoeira to seriously injure Luke.
Fans will also see the return of the first season's villains, Shades and Mariah, who clearly aren't about to let Luke run them out of Harlem. It looks like Mariah has some kind of plan in motion, and it wouldn't be surprising if she worked with Bushmaster to get rid of Luke once and for all.
Fortunately, Luke has a partner this time around that will be able to help him protect Harlem from this new threat. Detective and good friend to Luke, Misty Knight, had her arm chopped off by the Hand villain Bakuto during Marvel's The Defenders. At the end of the series, Misty was seen recovering in a hospital owned by Danny Rand and being watched over by her new friend Colleen Wing.
Now in Luke Cage Season 2, Misty's arm has been replaced with a bionic arm — one that now makes her match her comic book counterpart. But Marvel has been keeping the explanation behind how Misty got her new arm under wraps. In the comics, she got the arm from Stark International, meaning Ironman Tony Stark, but the Marvel shows on Netflix have been careful not to crossover into the Marvel films. So it will be interesting to see how the show explains Misty's new arm.
Regardless of how she acquired it, Misty's arm will make her an asset to Luke, whether he wants a partner or not. In addition to having Misty by his side, Luke's girlfriend Claire will also be around to help him out, as she's helped out all the Defenders at one point or another. Fans are also excited to see another familiar face in Luke Cage Season 2. A clip from the season revealed that Colleen Wing will crossover into the second season.
In the comics, Colleen and Misty were a duo called the Daughters of the Dragon and fans are hoping that since the pair became friends in The Defenders and Misty has her bionic arm, the Daughters of the Dragon team-up isn't too far off. Marvel hasn't confirmed whether or not the Daughters of the Dragon will actually be a title used in the show, but it looks like this pairing is definitely happening.
There's plenty to look forward to this season from both old and new villains and a new dynamic partnership with Misty now by Luke's side. You can see what's next for Luke, Misty, and Harlem by watching Luke Cage Season 2, which is now streaming on Netflix.
This article was originally published on