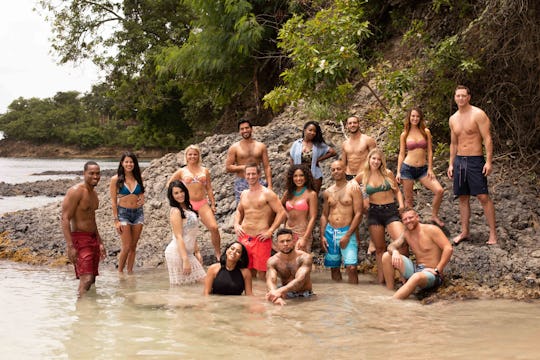 Rose Marie Cromwell/Lifetime
'MAFS: Honeymoon Island' Has A Short But Eventful Debut Season
The vacation version of Married at First Sight has only just begun, but fans might already be fearing the end. Honeymoon Island is a spinoff of Lifetime's popular series about arranged marriage, but this one allows prospective couples to get to know each other before they get hitched. Instead of having a few seconds before saying "I do," they get a couple of weeks. But how many episodes is MAFS: Honeymoon Island? How long do these couples really have to decide if they want to be together?
MAFS: Honeymoon Island has a cast that combines former contestants and prospective contestants with new additions, hoping to pair everyone off in time for an engagement in the finale. All of their adventures in dating take place on a stunning beach in an island locale, because cute swimwear and copious sunshine are key elements in finding your soulmate. At the very least, they don't hurt.
According to Deadline, the 16 contestants only have a limited time to enjoy all that sand and surf. Lifetime ordered eight episodes for the show's first season, each coming in at around an hour long. Two have already aired (with the third debuting the night of Nov. 6), so that means the final stretch is already fast approaching.
When those eight episodes are up, the various couples will have a big decision to make. Either they'll be exchanging vows and transitioning their relationship into the real world, or they'll remain single. Some of the cast members, like Bryan McKay, were deep in the process of being chosen for Married at First Sight, but couldn't be matched. Meanwhile, others like Shannon Raddler and Isabella McKenzie appeared on Married at First Sight: Second Chances. They were unlucky in love on their previous attempt, so perhaps they can make it work now that they're on Honeymoon Island.
By Episode 2, quite a few people had already found themselves in a prospective couple, but that doesn't mean they'll maintain those relationships all the way to the end. There are dates to go on and therapy to attend, as well as the normal drama and spats that come up when a group of people are dating on TV while sun-exhausted. There may be a success story or two when MAFS: Honeymoon Island reaches its conclusion, but there will certainly be some ups and downs before that day comes.
MAFS: Honeymoon Island joins sister spinoff MAFS: Happily Ever After, which will also have eight hour-long episodes. That show focuses on couples from the original series who have stayed together and started a family. It tracks the progress of their relationships and sees how each newlywed couple handles the obstacles of marriage and impending parenthood. Maybe if all goes well on the island, a few of the people from Honeymoon Island might find themselves joining a future season of Happily Ever After, too.
But it's really too early to say at the moment. The show may have a short season, but it's one that promises a lot of excitement before it's done.