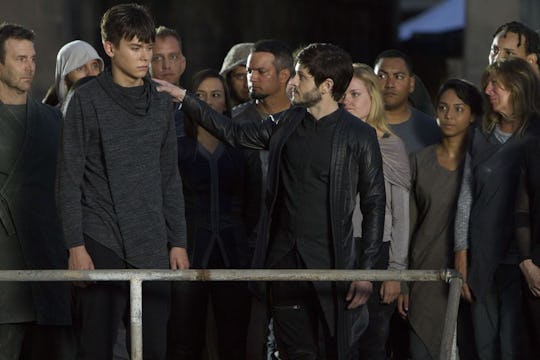 Mario Perez/ABC
'Marvel's Inhumans' Could Become Your Next Superhero Obsession
An all new Marvel's show is heading to ABC because it's apparently determined to take over your TV screens. Along with its X-Men-adjacent show, The Gifted, airing on FOX this fall, fans can also watch Marvel's Inhumans, which premieres on Friday, Sept. 29. So how many episodes is Marvel's Inhumans? It could very well become your next new obsession.
Ahead of Friday night's premiere, fans were given the opportunity to see the episode in IMAX theaters earlier this month. For two weeks, the premiere was shown on IMAX screens beginning on Sept. 1 and it was the first TV show to premiere in IMAX. And while the episode will now air on TV, as will the rest of the season, the first two episodes were shot entirely using IMAX cameras, which is pretty cool, even if you're not a bit superhero buff. As for how many episodes total fans can expect, the first season was granted an eight-episode arc.
Based on the comics of the same name, the show is set in the Marvel Cinematic Universe, thus just like Agents of S.H.I.E.L.D., it will share continuity with the films, however, don't expect to see anyone from the movies on the new show. The story follows Black Bolt (Anson Mount) and other members of the Inhuman Royal Family, who live in Attilan, a city on the moon. It begins with Black Bolt's brother, Maximus (Iwan Rheon aka Ramsay Bolton from Game of Thrones), deciding to overthrow his brother. (Classic Ramsay, amirite?) In Attilan, there is a disparity of power between those who have abilities, like Black Bolt, and those who don't, like Maximus.
Those without power were sent to work in the mines, however Maximus was saved from that fate because his brother is king. Still, it's clear that wasn't enough for Maximus to feel like he owes his brother anything. When Maximus attempts to overthrow Black Bolt, he flees to Earth.
Although Black Bolt is very powerful, he only uses his ability for dire circumstances. He is so strong that just a whisper from him can cause mass destruction, so he doesn't speak on the show and instead uses a form of sign language to communicate. This will of course make his time on Earth that much more difficult. While Black Bolt struggles on Earth, the show will also focus in on those left behind on the moon and what happens after Maximus takes control.
The show will also follow Medusa (Serinda Swan), Black Bolt's wife and the Queen of Attilan; Karnak (Ken Leung), Black Bolt's cousin; Gorgon (Eme Ikwuakor), another one of Black Bolt's cousins and the leader of Attilan's Royal Guard; and Crystal (Isabelle Cornish), Medusa's sister and the youngest member of the Royal Family. Additionally, viewers will also meet Louise (Ellen Woglom), a human who's been exposed to the Terrigen Mist, which activates the powers of Inhumans that were left behind on Earth when they first migrated to the moon.
Although the show definitely has an interesting concept, the reviews for the new series have not been good. But even so, some fans are still excited to see the new series play out. Who knows? The show could end up surprising you and become a major hit once a few episodes come out and it hits its stride. No matter what, you should still give the premiere a chance and see for yourself whether it's worthy of your time.
Watch Romper's new video series, Romper's Doula Diaries:
Check out the entire Romper's Doula Diaries series and other videos on Facebook and the Bustle app across Apple TV, Roku, and Amazon Fire TV.