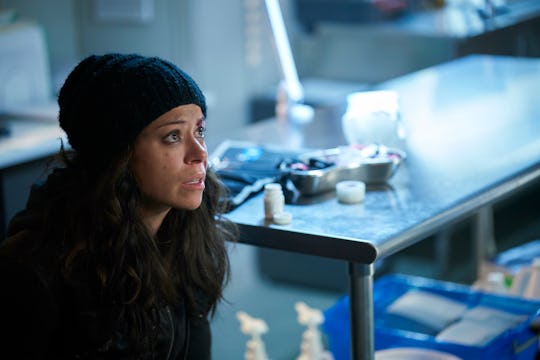 Ken Woroner/BBC AMERICA
Fans Need To Cherish These Final 'Orphan Black' Episodes
Orphan Black returns to BBC America in June for its fifth and final season after finally earning Tatiana Maslany a much-deserved Outstanding Lead Actress in a Drama Series Emmy win for her role as countless clones (OK, like, seven) in 2016. The show has struggled to gather accolades, in spite of its critical acclaim, but in an unprecedented stride for the genre, last year's Best Actor and Best Actress in a Drama Emmys both went to sci-fi stars. (Rami Malek took the former for his work on Mr. Robot.) So how many episodes is Orphan Black Season 5? We only have a short time left with Sarah, Alison, Cosima, and Helena.
At the end of Season 4, BBC America announced that Orphan Black would return for a 10-episode fifth season, which would also serve as the story's conclusion. Showrunners John Fawcett and Graeme Manson seem at peace with the decision and ready to deliver a thoughtful final season, saying in a press release when Season 5 was announced: "We are excited to deliver an epic conclusion to the tale of Sarah and her clone sisters. The past four seasons have been a phenomenal adventure and we are eternally grateful to our loyal fans who have loved the twists and thrills of our weird little show." The statement also included the gratitude they have for everyone who made this show possible: "We are thankful to our partners at Temple Street, and to BBC AMERICA and Space for their support and giving us the opportunity to end on a high."
Hopefully, all that amounts to a satisfying end for poor Sarah, who has been on the run for literally four years. Orphan Black has always been a story about badass women, but the Season 5 trailer takes on overtly feminist tones, with lines like, "From the very start, they hunted us, controlled us, used us, betrayed us, but they could not break us," and, "Now we fight to control our bodies, to love whom we choose."
"Together we fight with everything we've got and everything to lose for a new future" might as well have been ripped off a sign from the Women's March, and it's hard to believe there aren't some intentional allusions to Trump's America here. While the trailer shows brief flashes from episodes to come, these mantras of empowerment come from the good clones who are left: Sarah, Alison, Cosima, and a very pregnant Helena. You can watch them try to overthrow the Neolutionists once and for all when Season 5 premieres on Saturday, June 10 at 10 p.m. ET.