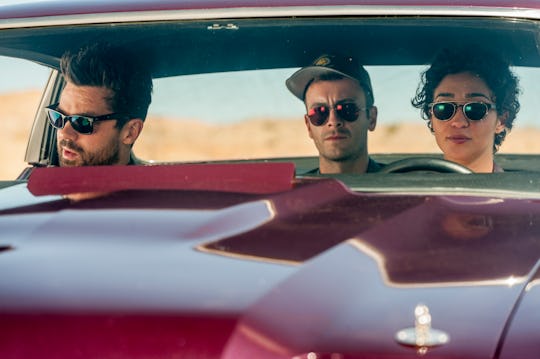 Lewis Jacobs/Sony Pictures Television
'Preacher' Season 2 Is Back & Better Than Ever
Fans of the late-'90s comic Preacher have Seth Rogen and Evan Goldberg (the team behind Superbad), and Breaking Bad alum Sam Catlin to thank for finally developing a TV adaptation of it that networks actually liked. They changed a lot from the source material to make the story more culturally conscious, but that seemed to pay off, since the series has successfully been picked up for a second season. So how many episodes is Preacher Season 2? It's actually going to be bigger than Season 1.
Preacher's first season ran 10 episodes on AMC, starring Dominic Cooper as the show's titular preacher Jesse Custer, Ruth Negga as his ex-girlfriend Tulip O'Hare, and Joe Gilgun as his best friend, an Irish vampire Cassidy. Season 2 got a 13-episode order, which was announced midway through the first season airing. Fans seemed to respond well to the update on the story, part of which involved shaping Season 1 into a prequel narrative of sorts to set the stage for some of the supernatural drama's more colorful elements. As Vulture pointed out in its Season 1 review, "...Mainstream viewers simply aren't as used to high-concept high jinks as comics addicts ('You needed to be more slowly immersed in the world,' Catlin says, 'or it would just feel like a bad acid trip')."
Other updates include things like tweaking Tulip's origin story to make her a stronger female character, independent of her ex-boyfriend's agenda. Rogen also made clear that he explicitly wanted to cast a black actor in the role, which is a departure from the way Tulip is depicted in the comic books (i.e., caucasian and blonde).
"We thought it would make the show a lot more representative of the people in America," Rogen said of the choice. "And the story of a young black woman growing up in West Texas seemed like it added another layer."
Having the show on a network like AMC with a Breaking Bad alum at the helm also seems to be working for the series, which tells the story of a small-town preacher who finds himself in accidental possession of mysterious divine powers. Together with Tulip and Cassidy, his mission is to find God, who has abandoned his heavenly throne, and exact revenge on him for his cowardice. Season 2 seems poised to amp up some of the more lucid elements, now that we've gotten that gentle intro from Season 1.
You can catch the premiere of Preacher Season 2 when it airs on Sunday, June 25.