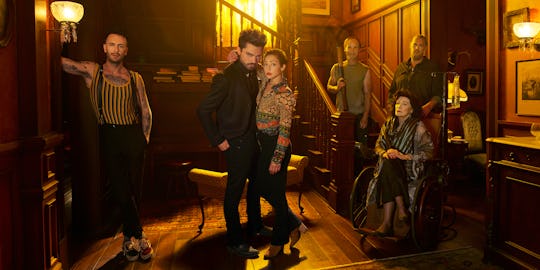 Frank Ockenfels 3/AMC/Sony Pictures Television
'Preacher' Season 3 Is Going To Be Shorter Than You Expected
After the enormous success The Walking Dead, AMC took another chance on the comic genre with Preacher, and it seems as if their gamble paid off. The series has amassed a huge cult following and has even expanded its reach to a streaming Hulu audience. Season 2 was full of twists, turns, and supernatural drama, and ended with a major cliffhanger, so fans are anxious for the new season. So exactly how many episodes is Preacher Season 3? It looks like fans will be getting a shorter season this time around.
In a press release this past spring, AMC announced that the third season of Preacher will have a total of 10 episodes that will follow preacher Jesse as he revisits his torturous childhood when going back home to Angelville, the place he's been avoiding his entire life. Season 2, in which with the supernatural trio of Jesse, Cassidy, and Tulip left left their destroyed town to go to New Orleans to find God, was just a bit a longer with a total of 13 episodes. However, while this third season may feel like a tight one, just remember that Season 1 was also a compact 10-episode season, so it shouldn't really impact the pace of the story.
While the previous seasons had the crew looking forward, the new season is going to be taking them back to Jesse's past which, through a series of flashbacks in Season 2, is known to be one full of torment and pain. The last episode ended with Tulip dead from a gunshot, and Jesse possibly headed back home to have her resurrected. While fans will have to wait and see how things pan out for their favorite preacher, his now dead girlfriend, and their new vampire bestie, this is how AMC described the upcoming season in a press release:
"In Season 3, Jesse Custer's quest for God takes him back to the place he's been avoiding his whole life: home. Jesse, Tulip, and Cassidy return to Angelville, the Louisiana Plantation where Jesse was raised, and find old grudges and deadly obligations await them. With the help of his friends — and a few enemies — Jesse will need to escape his past… because the future of the world depends on it."
Season 2 hinted around the idea of Jesse's grandma (set to be played by Betty Buckley) being an evil woman who has the ability to bring dead chickens back to life. One can only assume that after refusing to let Cassidy turn Tulip to save her life, Jesse is returning to Angelville in hopes that his Grandma will help bring Tulip back to the world of the living. I'm sure, as supernatural ledgers go, there will be a cost to his decision, but fans will have to wait to see what that is.
What sets Preacher apart from any other series in the genre is the underlying dark humor, which keeps even the most horrific things seem natural and almost quaint. That's probably because the supernatural series was developed by Seth Rogen and Evan Goldberg (the team behind Sausage Party and Superbad) with Breaking Bad's Sam Catlin as the showrunner. In an interview with the Motion Picture Association of America (MPAA), Catlin talked about the thrill of adapting Garth Ennis and Steve Dillon's comic book series for the screen and hinted at all the craziness to come in Season 3:
"I didn't know there were so many ways to show guts and intestines. But we haven't run out of ways to do it yet. Season three is going to be crazier by far than either of the other two seasons put together."
So it's time to get your popcorn, bibles, and DVR ready, because Preacher is set to return with its all-new third season on Sunday, June 24 at 10 p.m Eastern time on AMC, and you can stream the first two seasons right now on Hulu.