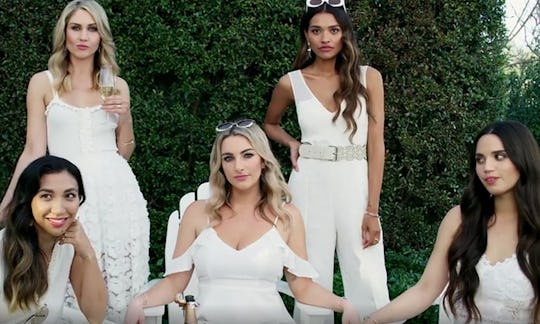 MTV
The Glam Moms Of 'Pretty Little Mamas' Are More Relatable Than You Think
MTV's latest reality show focuses on a group of 20-something mamas, but they're not like regular moms, they're cool moms. In any case, fans of the newly minted Teen Mom-meets-The Hills series may be wondering: how many episodes is Pretty Little Mamas? It's literally so new that we don't know yet. MTV hasn't released much information about the series other than some interviews and detailed bios of its main cast members, so it's unclear exactly how many episodes of the show will go to air. Since the show is just debuting, I would guess that it will start with a short season — maybe 10 episodes — and see how audiences react.
Pretty Little Mamas follows five friends whose bond goes all the way back to high school and only strengthened when they all had kids and formed their own mom squad. Growing up in an affluent area in San Diego, these young moms are privileged with plenty of financial support from their families, but they still struggle with relatable challenges like juggling motherhood, school, careers, and partners. The show is a pretty good balance of serious and frivolous — that's sure to keep you hooked whether you want to be or not. It's real enough to keep you invested, but over-the-top enough to be the escapist reality television you crave.
The cast centers around Nicole, the 26-year-old queen bee of her friend group. She lives at home with her parents and her daughter Noelle while finishing grad school. Nicole also has a boyfriend named Michael, who, judging by his Burberry bomber jacket and check-me-out swagger, looks like trouble to me. Her friends seem to find him annoying, but Nicole is convinced he's "the one." (Though he apparently lied to her face about his grandmother dying? Baby, what are you doing?)
Then there's Nikki, an aspiring model and YouTuber who was born in Singapore and is a relative newcomer to the gang. She moved to San Diego for college and, when she discovered she was pregnant, had to recalibrate her life along with her boyfriend. Their relationship seems to be in flux while they negotiate being parents and partners. And from the looks of her bio, her storyline this season will focus on the challenges of strengthening her brand and her relationship simultaneously.
Chandlar has recently returned to the group of friends after being exiled for three years over a falling out with Nicole. The father of her second child is currently in the midst of a struggle with addiction while the father of her first was paralyzed after BMX accident. With her personal life in turmoil, she'll have to lean on her already shaky friend group for support.
The other cast member battling a rough home life is Alyssa, who's on the cusp of graduating from nursing school. She's a mom to baby Kayden and is engaged to his dad, but not everything is rosy at home. She's also managing her mother's failing health, which has "thrown her life into chaos," according to her bio.
And finally there's Cheyenne, the only married mom of the group, who is currently crashing with her husband and two kids at her dad's house. Her partner struggles to keep a job, which has left Cheyenne with the responsibility of shouldering their economic burden if they ever want to leave the nest.
Despite their individual struggles, the whole group is super close-knit, which sets the stage for drama and hilarity alike. Pretty Little Mamas premieres on MTV August 30.