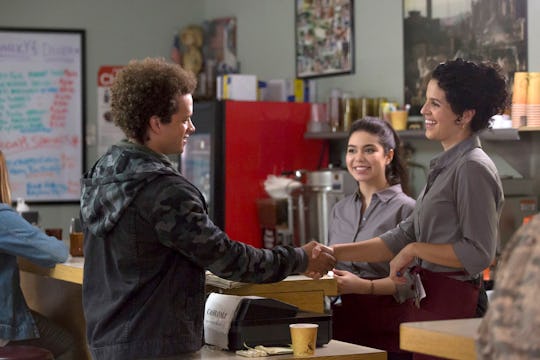 Eric Liebowitz/NBC
Fans Already Want More Episodes Of The New Musical Sensation 'Rise'
When Rise was first announced as NBC's newest series, people were quick to call it a Glee wannabe or Friday Night Lights for theater geeks. While the show is created by Friday Night Lights executive producer Jason Katims, Rise has begun to stand on it's own, picking up new fans every week. It's no surprise then that people are beginning to wonder how many episodes is Rise?
Like most first seasons, Rise is only slated for 10 episodes, but this season is only just getting started so there's still more time to go. The series, which follows a group of teens living in a Stanton, Pennsylvania who join the school's musical, will most likely end on the opening night of the school's production of Spring Awakening. Starring in the series, and the musical, are Moana star Auli'i Cravalho as Lilette Suarez and Damon J. Gillespie as Robbie Thorne. The series also stars How I Met Your Mother alum Josh Radnor as Lou Mazzuchelli, the high school English teacher who usurped the musical out from under Tracey Wolfe (Rosie Perez). It was Lou's idea to change the musical to Spring Awakening, a controversial choice for such a conservative town.
The series also stars Marley Shelton as Lou's wife, Gail; Joe Tippett as Sam Strickland; Ted Sutherland as Simon Saunders; Amy Forsyth as Gwen Strickland; Rarmian Newton as Maashous Evers; and Stranger Things alum Shannon Purser as Annabelle.
Thus far, the series has tackled a few issues. First, with Simon the show looks at the homophobia that exists in the town. In the end of the second episode, Simon's parents decided to take him out of the public school and enroll him into a private school for better "college prep." Of course the real issue was that Spring Awakening has lines like "cream away the bliss" and also an abortion storyline. Still, it seemed by the end of episode three that Simon's mom might be coming around when she went to talk to Lou at his home. However, the episode ended before Simon's fate was made clear.
The series also, of course, looks at class. Lilette works at a diner alongside her single mom, who was also involved in a fling with the football couch, who happens to be married and the father of Lilette's cast mate, Gwen. If you think that made things awkward between Lilette and Gwen, you are absolutely right. Additionally, Maashous lives in a foster home, although he's currently crashing at Lou's house. Although Lou and Gail both know they can't really afford to take Maashous in permentantly, along with their three children, they also can't find the heart to send him back to his foster home, which isn't exactly terrible but it isn't all that great either.
One person who isn't all that happy to Maashous around is Lou's son, Gordy, who appears to be an alcoholic. Currently, he's going through "rehab" with the football coach, which really just means he's doing brunt work, but whatever works I guess. Then there's Robbie, who probably has the most seemingly perfect life out of all the characters, but he's actually taking care of his mom who has a mysterious illness that left her wheel chair bound and living in a hospital. In episode three, she also took a fall, but thankfully it wasn't too harmful.
So obviously all of these characters have their issues they're trying to overcome, which is what makes this show so interesting to watch. Can a musical really bring this town together or will it just tear them all apart? You'll just have to keep watching to find out.
Check out Romper's new video series, Romper's Doula Diaries:
Watch full episodes of Romper's Doula Diaries on Facebook Watch.