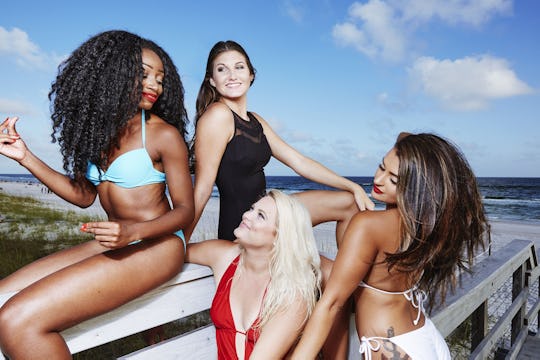 MTV
'Floribama Shore' Has Returned For Season 2 & There's Even More Drama To See
An all-new season of Floribama Shore has arrived and your favorite Southerners are back for more drama, hook-ups, and fights. Now that the show has garnered a good number of fans, many viewers are interested to see what's in store this season for the cast. Thankfully, they'll be plenty to see, but how long will this season air. Or, rather, how many episodes is Season 2 of Floribama Shore?
The new season consists of 14 episodes, which is almost double of the first season's eight episodes. This jump in season length shouldn't be all that surprising since the new reality series did well for MTV. According to Deadline, Floribama Shore was the number one original cable series in it's time period and the number two new original unscripted cable series in 2017. Thus, it's a hit for MTV and the second season is already doing just as well.
The Season 2 premiere, which aired on Monday, July 9 after being pushed back from June 19, got almost one million viewers, a series high for the show. In case you missed it, the premiere started off with drama. Nilsa had brought up to Kortni that she wanted to trade rooms since Kortni and Candace got the bigger room last year. However, Kortni wasn't having it and they both agreed to keep the original living situation.
However, for some reason, Codi and Gus thought it'd be fun to move Kortni and Candace's luggage into Nilsa and Aimee's room, to make it look like Nilsa and Aimee had done. Obviousy, this did not go over well with Kortni. To make matters worse, Codi then told Kortni that it was Nilsa who had moved Kortni's stuff.
"I told her I'd beat the f*ck out of her, if she put her sh*t in my room," Kortni said in a confessional. "Now I got to beat the sh*t out of someone on day f*cking one, Nilsa." Nilsa defended herself, saying it wasn't her, but made the mistake of calling Kortni a "psycho ass b*tch," which only proceeded to set Kortni off.
Kortni then proceeded to go off on everyone, yelling and cursing at the entire house. Rather than fess up, Gus and Codi remained quiet, with Gus even admitting he was a little scared of Kortni's reaction to the whole thing. Finally, after Kortni punched a wall, Codi and Gus confessed and apologized. Still, the damage was already done. And this was only the first episode.
There's plenty to look forward to in the upcoming episodes, beginning with the next episode titled, "Dirty But Worth It." During this episode, harsh words will reopen old wounds between Jeremiah and Codi and another prank will set the house on high alert. Meanwhile, Gus will take on a new play boy attitude that Nilsa will enjoy. If you don't recall, during Season 1 it was Gus who was interested in Nilsa and though they did go out on a date, Nilsa only had eyes for Jeremiah. However, now it seems the tables may have turned.
As always, you can also expect more drama and fights to occur as the season goes on. And there's been hints that someone will also end up being pregnant this season, though it's anyone's guess who that could be. Thus, there's plenty to look forward to in Season 2 of Floribama Shore, so make sure to tune in so you can't see all the best drama and hook-ups of the summer.
Floribama Shore Season 2 airs on Monday nights at 10 p.m. EST on MTV. You won't want to miss it!