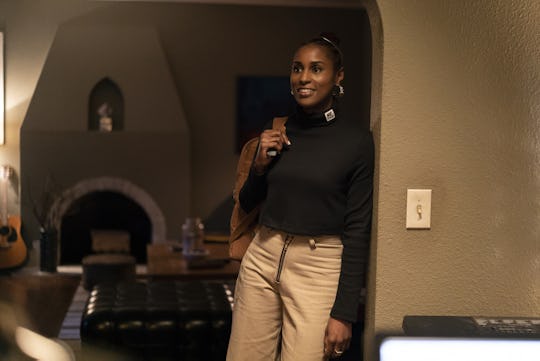 Merie W. Wallace/HBO
Here's How Many Episodes Are In The Newest Season Of 'Insecure'
It feels like it's been forever since Insecure fans have watched the dating adventures of Issa Dee but the show is finally coming back on August 12 for another season. How many episodes is Season 3 of Insecure? Unlike network comedies, HBO seasons are generally a lot shorter — but that just means it's all killer, no filler.
HBO didn't confirm how many episodes will be in the season when they renewed Insecure for a third season last year, so fans will have to judge based off of previous seasons and other sources. Seasons 1 and 2 both had eight episodes, each. According to the Futon Critic, Season 3 will also have eight episodes, with the premiere this Sunday and the season finale on September 30. So far, seven episodes have names all following the same pattern as in the first two seasons: "Better-Like," "Familiar-Like," "Backwards-Like," "Fresh-Like," "High-Like," and "Ready-Like" are the first six on the Futon Critic. "Obsessed-Like" will be the penultimate episode according to HBO's scheduling site.
Honestly, my hopes are super high for this season. The trailer for Season 3 looks awesome, and Entertainment Weekly's critic has given Insecure Season 3 high praise with an A rating, praising the series for its stylish blend of comedy and sexiness.
Editor's Note: The Instagram account has since been deleted.
Even though the number of episodes and the name convention are the same, fans will definitely notice a striking difference in Season 3: a lack of Lawrence. That's right, show co-creator Issa Rae said Insecure is taking a break from Lawrence this season. She said at the Insecure Fest event in Los Angeles last month, "We want to stay as true to life as possible. They had a great conversation at the end of Season 2 and it was just about like, hey, she's moving on Daniel, sometimes we have those conversations." She continued, "You never see the exes again. And it's okay! You gotta explore life without Lawrence." She told Vulture that she doesn't care about fans' reaction to the change. Sorry, guys.
Editor's Note: The Instagram account has since been deleted.
Showrunner Prentice Penny agreed with Rae and said, "At the end of the day, we're always trying to tell stories that are true and authentic. We were in the writers room and we were initially talking about, Okay, well what is he doing?" Well, he's not in her life right now. It was hard to make stories around that." So, instead of shoehorning Lawrence into this season — which I'm not sure would work, given he's no longer in Issa's orbit — Rae and Penny decided not to have him in it at all, just like it would be in real life. Penny said, "Let's just deal with the reality of what her life is now. Let's be true to that, when you breakup and you have closure."
Just incase viewers think that this is some kind of elaborate ruse, Jay Ellis, who plays Lawrence, hasn't filmed scenes for Season 3. There hasn't been an update on that since April, though, so who knows if Lawrence will truly be absent for an entire season.
I do wonder if Lawrence will suddenly appear again in Issa's life the second half of the season, or even in the season finale. The season hasn't even started yet, of course, so it's a bit early for conspiracy theories — but interesting to think about nonetheless. And, due to the season being eight episodes long, fans will be facing the season finale (unfortunately) before they know it. For now, though, there's an entire, brand-new season of Insecure to look forward to.