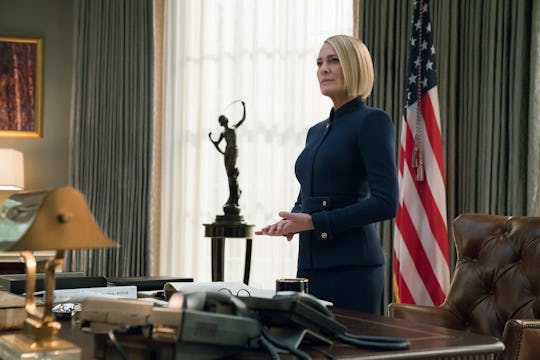 David Giesbrecht/Netflix
Here's How Many 'House Of Cards' Episodes You'll Get In The Final Season
Just in time for the midterm elections, the final season of House of Cards is almost here and fans everywhere are simultaneously cheering and bracing for the impact. After a year tarnished by sexual assault allegations against Kevin Spacey (which he denies), it's time to start fresh. Spacey played the 46th President of the United States, Frank Underwood, and it wasn't initially clear when, or if, the series would continue. But then Robin Wright (who plays Underwood's wife, Claire), stepped in and all hail the powers that be because, November 2nd marks the last season's debut. So, how many episodes is Season 6 of House of Cards?
Actress Patricia Clarkson told The Talk in July there will be eight House of Cards episodes in Season 6. "I think it's going to be a stunning, stunning new season and I'm thankful for it," she said. Clarkson plays Jane Davis, Deputy Undersecretary of Commerce for International Trade and a veteran of the D.C. wars.
At the end of last season, Frank resigned after being investigated for the murders of Zoe Barnes and Peter Russo. This, of course, meant his Vice President, Claire, was sworn in as President. Though Frank wants her to publicly pardon him, Claire instead rejects his call, turns to face the camera and says, "My turn," thus ending the season.
In an interview with Entertainment Tonight, Cody Fern, who joins the cast as Annette Shepherd's (Diane Lane) son, said despite the surrounding circumstances, the final season will be "phenomenal," adding, "[There's] an exciting energy." He continued, "Listen, everyone is just so thrilled to be supporting Robin [Wright], and I think that she is a powerhouse, and it's been about Robin since season two, and anyone who's in denial of that hasn't been watching the show. So, we're just thrilled to get behind Robin and she is a powerhouse." As for everyone else on the show, he added, "No one's a good guy [on this show]. No one. Uh... that's what I can tell you."
Lane echoed these sentiments in an interview with Vanity Fair saying, "I had a friend who said to me: 'So are you a bad guy or good guy on the show?' There's no such thing as any 'good ones' on this show because everybody's clambering for power." Lane continued, "And nakedly so — it's delicious in its nakedness while remaining very astute about law, how it works, how we got where we are, holding up a mirror to things we wish were not true."
After the initial allegations against Spacey by Star Trek: Discovery actor, Anthony Rapp, Netflix announced in a statement that it would not continue production of House of Cards so long as Spacey was involved in any way. Then eventually the streamer announced that the show would go on without Spacey for a final season to fulfill the character arcs and storylines for fans, cast, crew, and actors alike.
Netflix Vice President of Original Series Cindy Holland spoke at the Television Critics Association Summer Press Tour this summer about the direction of the show after Spacey's departure saying, "We had always planned for Season 6 to be the final season, and we are very proud of the work Robin, Michael and the entire cast and crew have done."
With all eight episodes available at the same time on November 2, you should just clear your calendar and get to it. At one point Claire Underwood declares, "The reign of the middle-aged white man is over." So yeah, I'm in.