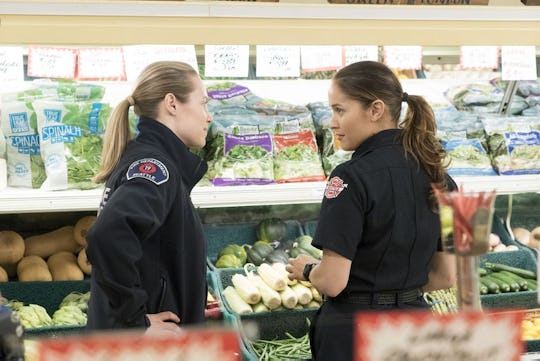 Kelsey McNeal/ABC
The Firefighters Of 'Station 19' Still Have A Lot Of Story To Tell
It may have only just come out last week, but Station 19 has already garnered a number of fans. Granted, that shouldn't be that big of a surprise given it's a Grey's Anatomy spin-off, which always tend to do well (look at you, Private Practice). But now that people are hooked on the series, many are probably wondering: how many episodes is Station 19? Unfortunately, the first season isn't that long, though it's sure to make a lasting impression.
As of right now, Station 19 is only slated for a total of 10 episodes for its first season. Still, with each episode being an hour long, that's enough time for the ball to really get rolling and for fans to get hooked on these characters and their stories. In the premiere, fans were already drawn to the main character, Andy Herrera, who decided to "step up" when she learned her father, Fire Captain Pruitt, had cancer and must step down. It also didn't hurt that Andy found herself in a love triangle with her longtime boyfriend, Jack Gibson, and her lifelong friend and police officer, Ryan Tanner. To put the icing on the cake, Andy is now up against Jack for the job of captain — a position he thought he was a shoo in for.
However, in the second half of the premiere, it seemed that Andy and Jack were coming to terms with the fact that they were competing against each other for the same job. The battalion chief came to the firehouse and let Andy and Jack know they'd be alternating days on being in charge until a final decision was made. Andy was up first, and though the day definitely had its fair share of struggles, she did pretty well by the end of it. That didn't stop Jack from cockily suggesting he was going to come out as the victor for the job.
While Andy has a lot going on, fans are also captivated by the other characters and their own stories. Not to mention it was also a lot of fun seeing the multiple Grey's Anatomy crossovers. In the first episode, the firefighters ended up at Grey Sloan Memorial Hospital when the captain had to be taken in after passing out during a fire. While there, Andy got a pep talk from Meredith. Later on in the episode, Dr. Bailey showed up at the fire station to give Ben his own pep talk after he was chewed out for making an almost fatal mistake out in the field.
In the second episode, the firefighter's ended up at Tucker's high school when he pulled the fire alarm to help a friend who was giving birth. If you don't recall, Tucker is Dr. Bailey's son and Ben's stepson. Tuck knew Ben would arrive if he pulled the alarm, hence why he did it. The firefighters were able to help Tuck's friend and deliver the baby safely. Ben then helped Tuck figure out how to not get in trouble with either his mother or the police for pulling the fire alarm.
Overall, the first two episodes of the season were filled with excitement, drama, romance, and some funny moments too. Basically, everything you can expect from a show executive produced by Shonda Rhimes. It'll be interesting to see what comes next in the series. Thankfully, this is only just the beginning and hopefully the series will be renewed for a second season.
The best way to ensure that happens though is to keep watching. So, you can catch new episodes of Station 19 every Thursday at 9 p.m. EST on ABC, right after Grey's Anatomy. You won't want to miss it!
Check out Romper's new video series, Romper's Doula Diaries:
Watch full episodes of Romper's Doula Diaries on Facebook Watch.