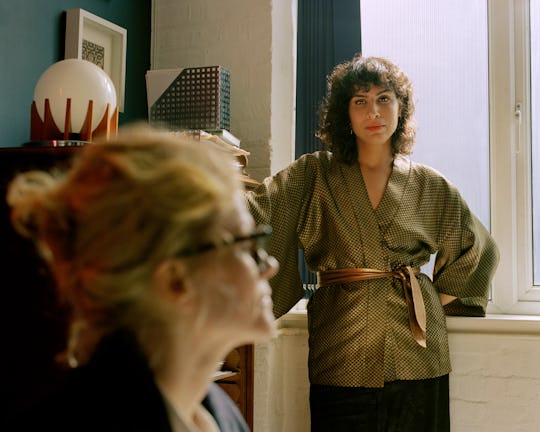 Tereza Cervenova/Hulu
Hulu's New Comedy 'The Bisexual' Will Have You Hooked
After bringing the heartache of gay-conversion therapy to light in her film, The Miseducation of Cameron Post, filmmaker Desiree Akhavan is telling the story of a bisexual woman in her new series, The Bisexual. The series follows a young Iranian-American woman named Leila, who lived her life as a lesbian, but is now exploring her sexuality with men. With such a fascinating premise, you could easily get hooked, so how many episodes are in The Bisexual?
The series hits Hulu on Nov. 16 (it was originally broadcast on Britain's Channel 4) and will air as a six-episode season. Akhavan, who also co-wrote and directs, plays the 30-something Leila, a woman who just broke up with her longtime girlfriend and business partner, Sadie (Maxine Peake), because she freaks out when Sadie proposes marriage. Leila moves out of their apartment, and when she sees Sadie move on to a new relationship, she decides to act upon her attraction to the opposite sex.
"The elevator pitch was always: 'What if a lesbian did the worst thing in the world a lesbian could do, and became interested in men?'" Akhavan said in an interview with The Guardian. She told the outlet that she wrote the show because she felt uncomfortable coming out as bisexual initially. "Bisexual sounds gauche and tacky, disingenuous, whereas there's only pride when I say lesbian, there's only coolness to say queer," she explained. "Bisexual didn't feel like it represented me and I wanted to know why, when technically it very much represents who I am."
Akhavan herself is an Iranian-American bisexual woman, much like Leila on The Bisexual, and she told New Now Next that much of the story is inspired by real life experiences. She explained that every character in The Bisexual was taken from her own life, or from the life of her writing partner, Rowan Riley, but many of the experiences were heightened for comedic or dramatic effect. She also told the outlet that Leila's story is different from hers in that the character comes out as a lesbian first, and then explores her bisexuality. "I actually came out from the start as bisexual. It was something I was never closeted about. I first fell in love with a man, and then a woman, and many women after that," she explained. "Making this was a sort of 'choose your own adventure' — what if I had not come out that way? What if I was closeted and had only been with women? But it is incredibly personal."
As the series' director, Akhavan wanted to portray bisexuality in a different way than viewers may be used to seeing. In an interview with Vanity Fair, she explained that she felt there weren't enough "honest depictions of female sexuality" in film or TV, so she turned The Bisexual into a much needed sexual coming-of-age story. She added that she felt that most on-screen lesbian love scenes come across as detached and cold, so she wanted to film them in a more realistic way. "This is about making something that doesn't look like everything else we've seen on-screen," said Akhavan. "So often male directors frame lesbian sex in a way that feels very objective — It's really important to me in these scenes that it's subjective, that you're in that experience."
Putting the amazing messages of love and sexual exploration aside, The Bisexual is a comedy at heart. Its six-episode season follows Leila through a series of hilarious experiences that you could probably relate to, no matter what your sexuality.
The Bisexual premieres on Hulu on Friday, Nov. 16.