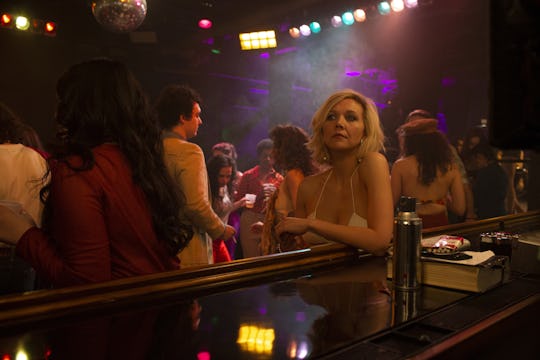 Paul Schiraldi/HBO
This Is What You Need To Know About 'The Deuce' Season 2
The Deuce was intense — and controversial —in Season 1, and I'm sure viewers can look forward to the same for the new season. How many episodes is The Deuce Season 2? The new season premieres Sunday.
According to the HBO website, there are six episodes slated for Season 2, culminating with an episode called "We're All Beasts" set to air October 14. Season 1 had eight episodes, with the finale airing Oct. 29 of last year. The announcement of the renewal didn't mention an episode order, so it may be six or HBO could add a couple more at the end of October to make it mirror Season 1.
HBO displayed the first look of The Deuce Season 2 on July 9 on Twitter. The poster featured Maggie Gyllenhaal, who plays Eileen, a sex worker turned porn director (so, still a sex worker, but of a different kind), decked out in a white jumpsuit and puffy white jacket in the middle of 1978 Times Square. The tweet said, "It's 1978. Punk, disco and porn. The City never sleeps."
The Deuce, then, will likely pick up five years after the show left off in Season 1 (it took place in 1972/73). To catch viewers up (spoilers if you haven't already seen it for yourself!), the last episode featured the premiere of Deep Throat, which revolutionized the porn industry. In the last few moments of the episode, Ruby, a veteran sex worker who helped out others, was murdered by one of her johns when he pushed her out of the window. I was devastated when I watched; while Ruby wasn't a main character, I loved watching her and wanted to know more about her story.
A lot can change in five years, and it certainly did in the realm of technology and culture in New York City. I'm curious, then, about how Season 2 will treat its established characters and go deeper (no pun intended) into the emerging world of porn. Some viewers may be hesitant, though, (and I am too), because James Franco is still involved with The Deuce. Creator and showrunner David Simon told Variety back in January of the matter:
Personally I can only speak knowledgeably to The Deuce. I've checked with all my fellow producers and other personnel. We have no complainant or complaint or any awareness of any incident of concern involving Mr. Franco. Nor has HBO been approached with any complaint. In our experience, he was entirely professional as an actor, director, and producer.
Ugh. That does put a cloud over the show for me, and I wouldn't be surprised if many viewers who loved Season 1 will back out, but nonetheless it is happening. It is interesting that the first poster for Season 2 only displayed Gyllenhaal and not Franco, considering he has top billing; maybe the writers and producers reworked the show so he has a less prominent role.
Besides that, I am interested to see where The Deuce goes, especially with this time jump. "Everything has changed," a character says in the Season 2 trailer for The Deuce. "It's not like how it was when we started...it's like a free world." The trailer then features shots of sex workers dancing, drugs, buildings on fire, police raids, Maggie Gyllenhaal looking amazing — so, yes, the same-but-different Deuce viewers gotten to love. I do hope they address some unknown questions from Season 1, such as if anyone cared that Ruby was killed, or what happened to Eileen's brother (who is gay and was sent away to have electrotherapy by their parents). I'll have my fingers crossed when I watch the premiere on Sunday.