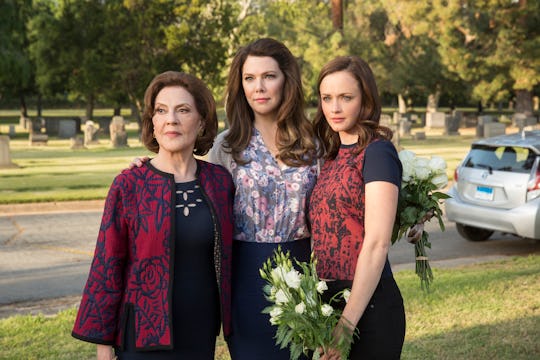 Robert Voets/Netflix
How Many Episodes Is The 'Gilmore Girls' Revival? Netflix Is Changing Up The Format
The Gilmore Girls revival is almost here and fans couldn't be happier. The series ended it's seven season run in 2007 and since then it has become a cultural phenomenon, mainly thanks to Netflix, where all seven season are now available for streaming. The revival will be done a bit differently than how the previous seasons were put together, however. Unlike before, where there were about 22 hour-long episodes with commercials each season, the Gilmore Girls revival will only contain four episodes.
If you're worried that won't be enough of your favorite Gilmore girls, don't fear. These episodes are no ordinary episodes and will actually be 90 minutes long each. And, as a bonus, because they'll be streaming on Netflix, there are no commercials. That means fans will get a total of six commercial free hours of Gilmore Girls. Plus, all of your favorite characters are returning for the big revival. Of course, Lorelai, Rory, and Emily Gilmore are all back. (You can't have Gilmore Girls without the Gilmore girls, after all.) The town of Stars Hollow will also be filled with familiar faces well, including Michel, Sookie, Miss Patty, Babette, Gypsy, Taylor, Luke, Jackson, Dean, Lane, and Mrs. Kim. Additionally Paris, Doyle, Logan, and Jess will also be appearing in the revival, amongst so many others.
The four-part revival will be divided up by the seasons, beginning with winter and working its way through spring, summer, and ending with fall. The revival takes place in the present-day, roughly eight years after the previous series finale of the show. So you can expect a lot of very relevant and topic pop culture references as usual.
Lorelai, Rory, and Emily are all in states of change in their lives and aren't really sure what comes next for them. Although Lorelai is happy with Luke, she's suffering from a bit of a mid-life crisis. Rory, on the other hand, is struggling with the new world of journalism. She's currently unemployed and trying to figure out what's next for her, career-wise. Lastly, Emily is attempting to cope with the loss of her husband, Richard, who was played by Edward Herrmann, who passed away two years ago. Now a widow Emily has to rediscover what it means to be without her partner.
Based on the trailer for Gilmore Girls: A Year in the Life, the revival will be filled with the same level of hilarity, quirkiness, and mother-daughter love that Gilmore Girls has become known for and fans can't wait to see it.
Gilmore Girls: A Year in the Life will be available for streaming on Netflix beginning on Nov. 25.