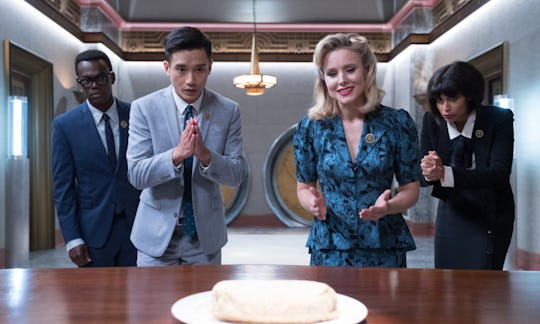 Colleen Hayes/NBC
Here's How Many Forking Episodes Of The Good Place Will Air In Season 3
Holy forking shirt — The Good Place is back for Season 3 on NBC and already, it's off to the most epic start. Since the show's first episode way back in 2016, it's had a place in viewers' hearts for the incredible twists, smart humor, and lovable yet flawed characters. Since the seriously twisty Season 2 finale, I've developed a million theories on how this season will go but right away, they got me. So how many episodes is The Good Place Season 3? The truest answer? Not nearly enough.
According to the website Digital Spy, this season will gift us with 13 The Good Place episodes of brilliance. That means 13 chances to watch Chidi's (William Jackson Harper) frustrating indecision, 13 chances to hope Eleanor (Kristin Bell) changes her ways for the better, 13 chances for Tahani (Jameela Jamil) to consider anyone but herself, and 13 chances for Jason (Manny Jacinto) to get a clue. And let me not forget to forget to mention that's 13 times Michael (Ted Danson) may or may not prove to be on the good or bad side (for real, though), or Janet (D'Arcy Carden) to just be Janet — the most entertaining non-human on TV.
And though Season 1 of The Good Place began September 19, 2016 and Season 2 started September 20, 2017, the extra few days in 2018 have felt like an eternity (pun intended). So much so, it was hard to remember what happened last. If you're with me, let me recap. In Season 2, Michael got Eternal Judge Jen (Maya Rudolph) to let the others have a second go at life on earth. You probably have trust issues after all the show's put you through so rest assured, this isn't a trick; they're really alive again.
Executive producer, Micahel Schur, told Rolling Stone, "Normally I don't like to just flatly state what's going on, but here I don't see the benefit of people experiencing ambiguity: The four of them are straight-up back on Earth, in a new timeline where they didn't die." In that same interview, Schur added, "It seemed like a natural move to send them back to a time before they made that progress, and to use the idea of nearly dying to test their ability to improve."
Of course it's a test to see if they're able to become the good people Michael believes they can be, if nudged. Eleanor did some good for a bit — quitting her shady job selling fake meds to the elderly and then signing up as an environmental canvasser — but eventually fell back into her old ways. In classic Eleanor's tone, "it was a real bummer, man." The finale showed the exact moment Eleanor would've died but this time, Michael saved her. That's where episode 1 of this season picked up showing Michael's view of what happened and thus, how he also saved the other three from their deaths.
The first episode was all about how Michael nudged the four together — all in the efforts of getting them to be better individuals because of the energy they have as a group. New cast members this season include Mike O'Malley as the Guard protecting the door between earth and the afterlife (and — spoiler — boy does he love frogs) and a possible new love interest for Chidi in the form of equally intellectual, Simone (Kirby Howell-Baptiste).
In an interview with the LA Times, Kristin Bell dropped a few clues about what's to come this season. "Metaphorically, this next season is about how you can play chess with people who don't know you're playing with them and doing so in a way that doesn't affect the greater universe," she said. "Our characters don't know there's a greater mission. We're meandering on Earth... all left on Earth separately. And what we learned from the first two seasons is that our strengths come when we're together."
In that same interview, Jamil chimed in to say the scripts to come are "slightly filthier," and say no more, fam. I'm all in. The U.K. and Ireland can catch new episodes on Netflix the day after the US's premiere each week so basically the entire world will be in on every forking joke. If I haven't said it enough, now's the time to get excited.The Good Place airs Thursdays at 8:30 p.m. ET on NBC.