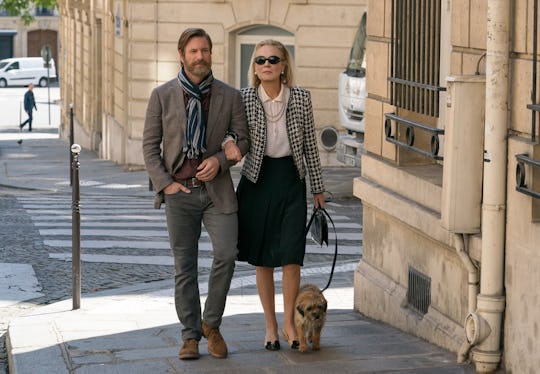 Christopher Raphael/Amazon
Each Episode Of 'The Romanoffs' Is Like A Mini Movie
One of the most anticipated shows premiering this fall is The Romanoffs, an anthology series that comes Mad Men creator, Matthew Weiner. The series will tell the stories of characters across three continents, all claiming to be descendants of the Russian royal family. Each episode will feature its own A-list cast of celebrities, and will premiere on Amazon prime on a weekly basis. So exactly how many episodes is The Romanoffs?
Unlike Amazon's regular streaming schedules, where all episodes are dropped at once, The Romanoffs will air with a total of eight weekly episodes on Amazon Prime, with the first two episodes premiering simultaneously on Oct. 12. After the debut, the next six episodes are scheduled to drop every Friday until Nov. 23.
But because each episode tells it's own story, you won't be left with a cliffhanger that leaves you anxiously waiting for the next week. In an interview with The New York Times, Weiner revealed why he chose to create The Romanoffs as an episodic anthology. "I'm not a trailblazer or a disrupter. I'm just thinking in terms of the audience," said Weiner. "Wouldn't it be nice to have something that was on once a week that you didn't have to catch up with and you could watch in any order?"
As a person who hates to wait for new episodes, I think it will be refreshing to watch a series that is separated by story lines, but still shares an underlying link. According to The Hollywood Reporter, each episode is like it's own mini movie, and the first three episodes are nearly 90 minutes long. Every episode features different characters and storylines, but all of them are based around the premise of identity, with people using their self-proclaimed Romanov heritage to fuel their delusions of entitlement and royalty.
In a 2017 interview with The Hollywood Reporter, Weiner discussed the reason he chose the Russian royal family as a link in his new series. "The reason that I picked the Romanovs is that in an era where we have social media and so much theoretical connection to each other, it really seems like we're further apart than ever," Weiner explained. "And I love this idea that these characters believe themselves to be, whether they are or not, descendants of this last autocratic family who are part of one of the great true-crime stories of all time. I also love that it's the chance to talk about nature versus nurture, what they have in common and what is left of a grand heritage."
Despite the simple premise, The Romanoffs was no small feat to produce. According to THR, the series had a budget of nearly $50 million and was filmed on three continents with a high-profile cast. The cast includes notable Hollywood actors, including Aaron Eckhart, Diane Lane, Isabelle Huppert, Christina Hendricks, John Slattery, Amanda Peet, Jack Huston, Kathryn Hahn, Noah Wyle, and Paul Reiser. THR also noted additional cast members were later revealed and include Mary Kay Pace, Griffin Dunne, Ben Miles, Ron Livingston, Kerry Biché, Jon Tenney and Clea DuVall.
Amazon did release a brief synopsis of the first two episodes, and as reported by Deadline, the first episode, titled "The Violet Hour," will be set in Paris and will star Aaron Eckhart, Marthe Keller, Inès Melab and Louise Bourgoin. Episode 2, "The Royal We," will center around a struggling married couple, and will feature Noah Wyle, Corey Stoll, Kerry Bishé, and Janet Montgomery.
The first two episodes of The Romanoffs will kick start the series, and will premiere together on Amazon Prime on Friday, Oct. 12.