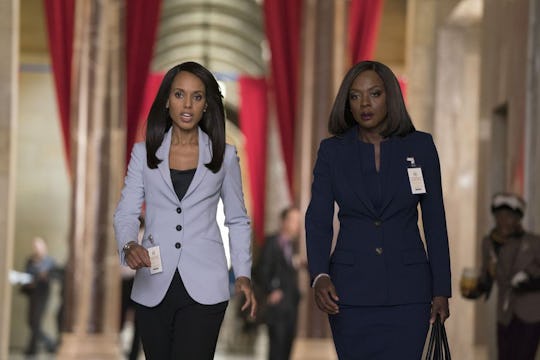 Mitch Haaseth/ABC
Don't Miss A Moment Of The 'Scandal' & 'HTGAWM' Crossover Event
It's finally happening! The Scandal and How to Get Away With Murder crossover event, or "How to Get Away With Scandal" as some people are calling it, is going down this Thursday night and it's sure to be epic. Fans can't wait to see Olivia and Annalise work together and many are hoping this isn't just a one and done kind of thing. So how many episodes is the Scandal and HTGAWM crossover?
Unfortunately, the crossover event will only last for two episodes total. The crossover will begin on Scandal at 9 p.m. EST and continue on into How to Get Away with Murder at 10 p.m. EST. And then it will sadly be over, but still what a time to be alive, right? Olivia is the White House's greatest fixer and while she hasn't exactly been excelling at fixing things lately, she's still one of the biggest and baddest people on Capitol Hill. Annalise, on the other hand, is a top dog defense attorney, who's not only gotten her clients acquitted time and time again, but she's also gotten her students out of a number of sticky situations over the past few years.
So what exactly brings these two fierce ladies together? Well, at the end of the last HTGAWM episode, which now seems so long ago thanks to the hiatus, Annalise was ready to give up on her class action suit when Michaela had an idea. She suggested Annalise appeal the case to the Supreme Court and that she get Olivia Pope's help to do it.
However, as Scandal fans already know, Olivia isn't exactly in a great position to be asking the Supreme Court favors. Her recent fall from grace and exit from the White House probably won't help Annalisa's case. Additionally, according to Essence, Bonnie will also make a "surprising discovery" that could ruin everything. Don't worry, she won't discover that she was once Amanda Tanner on Scandal and was murdered by Charlie. In fact, Bonnie won't come into contact at all with Olivia or any of the other Scandal characters throughout the crossover. Whatever Bonnie learns is something else entirely.
Despite this conflict, the crossover may end up being beneficial to both Olivia and Annalise. Although Annalise went to Olivia for help, maybe Annalise could end up helping Olivia get back on the right foot in Washington. Additionally, Essence revealed Annalise's mom, played by the legendary actress Cicely Tyson, will also be in the crossover to help. It's not clear why Annalise's mom is making an appearance other than the fact that Tyson has been phenomenal every time she's been on HTGAWM, but it'll be great to see her nonetheless. In the exclusive set photos Essence shared, it even looks like Annalise's mom sits down and has a heart to heart with Olivia, hopefully telling the fixer whatever it is she needs to hear.
Thus, there's a lot to look forward in this big crossover event and it'll be interesting to see how well (or how poorly) Annalise and Olivia are able to work together. Although they are both incredibly strong women who are great at their jobs individually, will they make a good team? I'm confident these two will be unstoppable together. But whether they butt heads or become instant friends, it'll be fun to see them work together in the same space, even if it's only for these two episodes.
You can catch the Scandal/HTGAWM crossover this Thursday, March 1 beginning at 9 p.m. EST, right after Grey's Anatomy. You definitely won't want to miss this!
Check out Romper's new video series, Romper's Doula Diaries:
Watch full episodes of Romper's Doula Diaries on Facebook Watch.