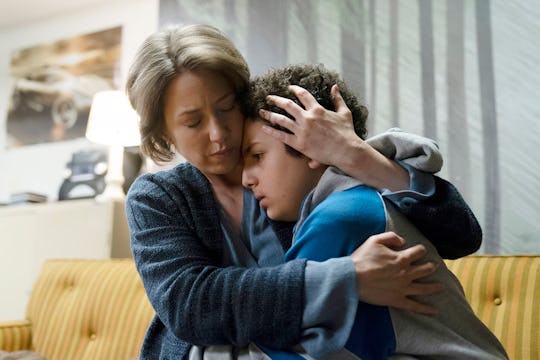 Peter Kramer/USA Network
The Second Season Of 'The Sinner' Starts A New Murder Mystery
The second season of USA's thrilling drama, The Sinner, is here to tell a new story. This time around Detective Harry Ambrose (Bill Pullman) returns to his hometown in rural New York to assess the heart wrenching crime of parents murdered by their 11-year-old son, with no apparent motive. The Sinner remains a limited series, leaving some to wonder how many episodes is The Sinner Season 2?
Just like the series first season, the second season will consist of eight one-hour episodes. Additionally, this will also be a self-contained story that will only focus on this one particular case. According to the series description, during this season Ambrose will realize there's nothing ordinary about the boy or where he came from. The investigation will pull Ambrose (and viewers) into the hidden darkness of his hometown.
"He's pitted against those who'll stop at nothing to protect its secrets — and a mysterious woman who proves to be a complicated, enigmatic piece to this haunting puzzle," the description reads. 13-year-old actor Elisha Henig will star in this season as the young killer, Julian Walker. The series also stars Natalie Paul as Heather, the young detective who brings in Harry for the case, and The Leftovers' Carrie Coon, playing the mysterious woman who's a key figure in a nearby commune where Julian had been living. Coon's husband, Tracy Letts, also appears in the show's second season as an old friend of Harry's.
The first season, which was based on the novel of the same name by Petra Hammesfahr, starred Jessica Biel, who stayed on as an executive producer for Season 2. Biel played Cora Tannetti, a mother who stabbed a beachgoer to death for no discernible reason. Her role in the series earned her a Golden Globe and Emmy nomination. Though she will not be starring in this season, Season 2 of The Sinner is still receiving a lot of hype and praise from critics. The AV Club even suggested this new season may be even better than the first, which is high praise considering how good the first season was and how well it did.
In Season 2, Julian was on a road trip with his parents to Niagara Falls when they stopped for the night at a motel in Detective Harry's hometown of Keller, New York. It was in the morning that Julian's parents were found dead.
The great thing about The Sinner is even if you didn't see the first season (though you should) you can just jump right into Season 2 without watching the first. The only connection between the two seasons appears to be Detective Harry, who is an interesting character. If you'd like to know more about him, you'll definitely need to watch the first first season. During Season 1, while investigating Cora's case, he was dealing with his failing marriage. Now, as he returns to his hometown, Detective Harry is forced to reckon with his past. That said, if you're more interested in the murder mystery aspect of the show, you can certainly just dive right in with Season 2.
Though the season is about uncovering why Julian killed his parents, it will also unravel some more secrets about this small town that may connect to Detective Harry's past. The show will jump between the present and also flashbacks of Harry's family history in Keller. Thus, while this season may feel slightly familiar in terms of a narrative style, it is also different in it's storytelling.
You can see for yourself when The Sinner premieres on USA tonight at 10 p.m. ET.