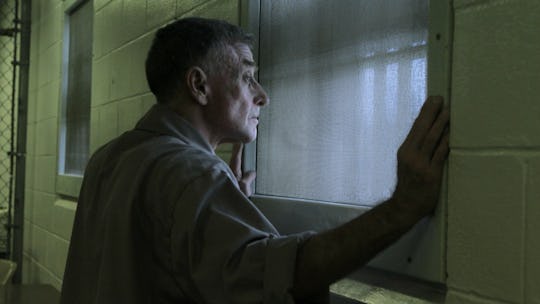 Netflix
Here's How Many Episodes Of 'The Staircase' You'll Be Binging
If you're a fan of true crime dramas, you've probably heard about The Staircase. Netflix's docu-series follows the murder case and trial of fiction writer and novelist, Michael Peterson. Although the series consists of a few older episodes, Netflix has recently added new episodes with updated content on the case. So after combining the all the old content with the new, how many is episodes is The Staircase? (Romper reached out to Michael Peterson's representatives and Netflix for additional statements.)
In a press release, Netflix confirmed that they would add three new episodes to the already 10-episode series and release it as a 13-episode package. The series originally aired in 2004, as Academy Award-winning documentary filmmaker Jean-Xavier de Lestrade started following Michael Peterson's case and trial which began with the death of his wife, Kathleen Peterson, in 2001. Her murder led to an ongoing case that has lasted over 14 years, and De Lestrade has continue to follow and film each development. The most recent developments in the case have spawned three new episodes, so Netflix has repackaged and revamped the series for a streaming audience.
So why is this true crime series different than any other? It really has to do with the incredibly rare access De Lestrade was granted since the beginning of the case. He, along with his film crew, were allowed complete access to the Peterson defense team, and went on to film interviews, the trial, and even went on to interview the jury in his case that sentenced Peterson when he was found guilty of his wife's murder in 2003. Getting such an up close look at the facts, evidence, trial, and testimonies as they all unfolded is what sets this true crime series apart from the rest.
Another point that makes Peterson's case intriguing is the shadow of doubt that's cast over his guilty verdict. Immediately after his wife's death, Peterson was not charged with any foul play. But when it came to light that another woman, Elizabeth Ratliff, also mysteriously died the exact same way in Peterson's Germany home 15 years before, suspicions arose, and he was subsequently arrested and charged. The similarities in the cases that led to his arrest were that both women died at the bottom of his staircase, and he was the only person home at the time of both of their deaths.
The fact that Peterson is a crime novelist is what makes the whole case even more sordid. However, the prosecution was never able to find a murder weapon or prove a substantial motive, and much of the evidence against him was circumstantial. This is why many people still believe that Peterson was wrongfully accused and sentenced in his wife's murder, and it's important to note that he has consistently maintained that he was innocent from the beginning.
Because of a series of legal errors, Peterson was released and then set to be retried in May of 2017, but with a resolution between his attorney and the Durham County Prosecutor, Peterson entered an Alford Plea in February of 2018. The plea itself is still not a nail in the case, because with it he does not admit to guilt, but admits that state has enough evidence to convict him.
De Lestrade has followed the case from the beginning, and you will probably see all the developments leading up to this year's plea deal. So whether you've been tracking the case for years or not, if you're a fan of true crime TV, this is one series you don't want to miss. The Staircase is set to premiere with all thirteen episodes on Friday, June 8 on Netflix.