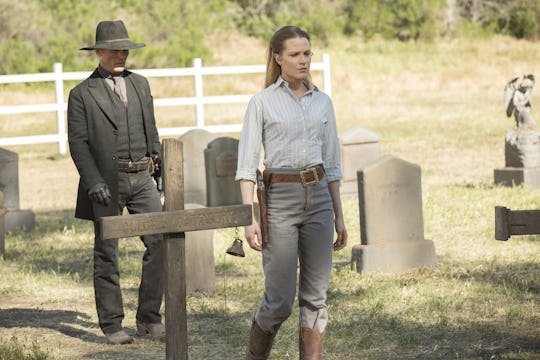 John P. Johnson/HBO
How Many Episodes Is 'Westworld'? The Season 1 Finale Is Upon Us
From the very beginning, I instantly new Westworld would become my new obsession. The promos alone felt compelling and interesting in a way that immediately grabbed my attention. But like with many amazing things, this exciting ride is coming to a close way too soon for my liking. So how many episodes is Westworld exactly? I'm sad to report that the Westworld Season 1 finale is officially upon us during Episode 10 this Sunday evening. I know, I'm not happy about it either, to be honest.
Don't get me wrong, a big part of me is desperate for answers and eagerly wants to know how this will all play out by episode's end. But then, on the other hand, I know that it comes at a heavy price — the end of Season 1. Thankfully, HBO has already gone ahead and renewed Westworld for a second season with another 10-episode order. However, even this exciting news isn't without a downside. It's looking more and more likely that the next installment won't return to our TV screens until sometime in 2018 — or at least, that's what HBO's programming president Casey Bloys recently told Entertainment Weekly regarding the show's highly anticipated comeback.
My suspicion [for Westworld's return] is sometime in 2018 because of how big the world is and what goes into shooting it. So I don't have a date exactly – they're going to have to map it out and write the scripts – but my guess is sometime in '18.
Granted, that's definitely not the response fans want to hear. Considering how popular the series has become, people want more as soon as possible. But I think we can all agree that a far-off Westworld is certainly better than no Westworld at all, so let's just be grateful that the network will play host (see what I did there) to the show once more.
And when it does return, viewers can expect Season 2 to be just as riveting as the first season was. Showrunners Jonathan Nolan and Lisa Joy had to pitch their Season 2 ideas to HBO already, and based off of Bloys first impressions, fans won't be disappointed. "What they came up with is as exciting, mysterious and as fun as Season 1," she told Entertainment Weekly. "And completely original, as well."
So take comfort in knowing that your patience won't go unrewarded. But in the meantime, I'm anxious to see how the rest of this season plays out and where it'll leave these characters for the next epic story arc.