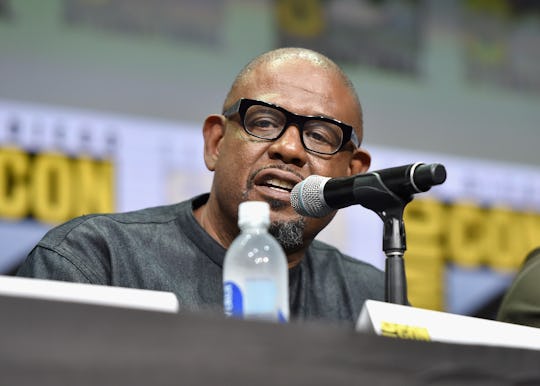 Alberto E. Rodriguez/Getty Images Entertainment/Getty Images
Forest Whitaker Will Be Sticking Around On 'Empire' As Uncle Eddie
When a new season of Empire begins, I'm always excited to see the guest star list. Throughout the show's run, there have been a slew of A-list actors that grace viewers' televisions with their presence on the show. This season, for example, Demi Moore takes on the role as Claudia, Lucious' nurse trying to help him out of amnesia (and I think she has some other motives, but that's a different discussion). Another iconic guest star in Season 4 will be Forest Whitaker. But how many episodes of Empire will Forest Whitaker be in? He plays an important person in Lucious' life.
This season of Empire will actually have fewer guest stars than in previous years. Producers opted to do this in order to refocus the show on the Lyon family. "When we start to focus too much on guest stars we lose who it is that the fans want to watch," Lee Daniels told Variety. "They're obsessed with the Lyons. They're obsessed with family. They're obsessed with the story of Lucious and Cookie and Jamal and Andre and Hakeem." While the crew decided to showcase the Lyons this season, that doesn't mean there won't be any guest stars — or that they won't be the powerhouses they were in the past. Whitaker is a prime example of that.
Whitaker plays Uncle Eddie, a music icon that gave Lucious a chance when he was just starting out. He's a mentor to Lucious, and the Lyon family seeks him out in order to help jar his memory. As of the premiere, Lucious is still suffering from amnesia, and the Lyons themselves are at a loss as to how to help him regain his memories. But will Uncle Eddie show up for one episode, perform magic and cure Lucious or will Whitaker appear on Empire for a longer period of time?
According to Deadline, Uncle Eddie has a multi-episode arc. It's unknown as of now how many episodes he'll be in, but viewers know his first appearance will not be his last. Not much else is known about Whitaker's role, except that he will definitely sing.
Executive producer Lee Daniels knew that Whitaker could act (obviously, he's Academy Award-winning), but he didn't know he was so talented musically. In an interview with TV Insider, Daniels said, "Forest is going to stun you. I've admired the guy forever — and even directed him in The Butler — but I had no idea he could sing so beautifully." Viewers will be treated to Whitaker's singing and acting chops. Daniels continued, "And he has really made Terrence [Howard] step up his game. Acting with Forest is like getting into the ring with Ali."
Whitaker's appearance is also a coup for Howard. They are playing mentor and mentee together, which mirrors their relationship with each other in real life. "Forest has been a mentor to me in my own personal life," Howard told Variety. "The role I played in Crash was originally Forest's role, and Forest had stepped out to do his directorial debut and recommended me for that character. So for Forest to play a mentor for Lucious [is extra special]. We haven't seen a lot of Lucious' past collaborators."
Given how excited the Empire crew is for Whitaker's performance, I can't wait to see how Uncle Eddie's role plays out, both in the show and on the soundtrack. I'm glad it's not just a one-episode appearance and hope Whitaker fleshes out the role as best he can. Whitaker has already won an Academy Award, Golden Globe, and a slew of other accolades for his acting... maybe an Emmy Award for Uncle Eddie could be next.
Watch Romper's new video series, Romper's Doula Diaries:
Check out the entire Romper's Doula Diaries series and other videos on Facebook and the Bustle app across Apple TV, Roku, and Amazon Fire TV.