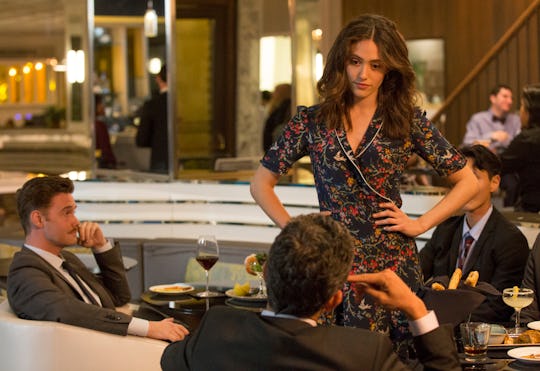 Paul Sarkis/Showtime
'Shameless' Season 9 Will Be Split Into Two Parts
America's most dysfunctional (fictional) family is back. Shameless Season 9 premieres Sunday, Sept. 9, but just how much of the Gallaghers will viewers be seeing? How many episodes is in Shameless Season 9? Fans will be happily surprised.
Shameless Season 9 will be split into two parts, and have a total of 14 episodes. The first seven episodes will air from Sept. 9 to Oct. 21 with the episode "Down Like the Titanic." According to Entertainment Weekly, the second half will premiere on Jan. 20, 2019. This is a departure from every other season of the show; each of the eight previous seasons had just 12 episodes and there wasn't a break in between.
Showtime's description of Season 9 assures viewers that while the episode order is different, the content will feature the same old Gallaghers:
In season nine of SHAMELESS, political fervor hits the South Side, and the Gallaghers take justice into their own hands. Frank (Oscar nominee and Emmy and SAG Award winner William H. Macy) sees financial opportunity in campaigning and decides to give voice to the underrepresented South Side working man. Fiona (Golden Globe nominee Emmy Rossum) tries to build on her success with her apartment building and takes an expensive gamble hoping to catapult herself into the upper echelon. Lip (Jeremy Allen White) distracts himself from the challenges of sobriety by taking in Eddie's niece, Xan (Amirah Johnson). Ian (Cameron Monaghan) faces the consequences of his crimes as the Gay Jesus movement takes a destructive turn. Debbie (Emma Kenney) fights for equal pay and combats harassment; and her efforts lead her to an unexpected realization. Carl (Ethan Cutkosky) sets his sights on West Point and prepares himself for cadet life. Liam (Christian Isaiah) must develop a new skillset to survive outside of his cushy private school walls.
At Season 9, Shameless is now Showtime's longest-running scripted original series. There's no word that it will be the final season or that it will be renewed for Season 10, but if the latter is the case the show will have to drastically change. Emmy Rossum will leave Shameless after Season 9 on Aug. 30. "Until Shameless came into my life 8 years ago, I led that kind of transient wonderful life of an actor. And I never realized how much I actually craved the kind of continuity that this show has given me," Rossum posted on Facebook. "The opportunity to play Fiona has been a gift."
John Wells, executive producer and showrunner of Shameless, told CNN that the cast and crew are currently working on the season finale. That means that Rossum will, thankfully, be involved with all of Season 9 as opposed to just one part of it. Wells assured that Rossum's "send-off" will be worthy of her character and the Gallaghers — which I'm sure fans are happy to hear, even if they have to wait awhile to see it.
It's still up in the air whether that season finale will actually be the series finale. Shameless was renewed for Season 9 in November last year, several days after the premiere of Season 8. Fans may have to wait until after this premiere, then, to find out the fate of the show. There's also a chance that Showtime waits a little longer considering that Season 9 will be split into two parts. If the show pulls a Breaking Bad, however, the split season is indicative of the show ending (Season 5 of Breaking Bad, the final season, was aired in two parts — albeit with a longer break than Showtime is for Shameless). Regardless, fans have a longer Season 9 to look forward to with that many more Gallagher antics.