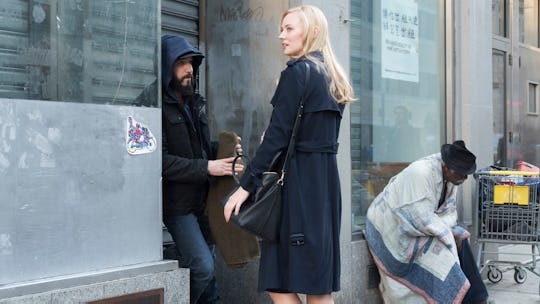 Nicole Rivelli /Netflix
Karen Has An Important Part To Play In 'The Punisher'
The Punisher, is here and surprising no one, Karen Page, is also part of the series. In the second season of Daredevil, Frank Castle, aka the Punisher, made his first appearance, and Karen was the only one on his side, at least at first. Since then, the pair have had a bond that has led many fans to hope they'll one day have a romance. For now though, fans are just excited to see Frank and Karen together again. But how many episodes of The Punisher is Karen in? Unfortunately, it's difficult to know for sure.
IMDB has Deborah Ann Woll, who plays the investigative journalist, listed as appearing in all 13 episodes of the season, but that may not be entirely accurate. Creator and showrunner Steve Lightfoot hasn't said just how much Karen will be in the show, but based on the fact that he asked to have Woll be in it, it seems unlikely that she'd only drop by for one episode.
Recently, Lightfoot revealed to Mashable that Karen wasn't originally supposed to be in The Punisher. However, he requested to have her written into the show because Karen and Frank had so much chemistry together in Daredevil. "Frank is a closed-off military guy, and [Karen] is a woman he treats like an equal more than anyone else," Lightfoot said.
Karen and Frank both have dark pasts, and this is something they will most likely continue to bond over in The Punisher. Whether or not this friendship will turn into something romantic remains to be seen, but fans have high hopes for the pair.
Woll's comments to Entertainment Weekly during Comic Con in July, also seemed to hint that there may be romance in the air between the two characters. "Frank has a soft spot in Karen's heart, and certainly with the dark history that Karen has, there are very few people she can share her authentic self with," she said. "Frank is someone who she could potentially fully open up to."
Whether or not Frank and Karen do get together, it'll be interesting to see how the pair work together. Karen will most likely still be grieving over the "death" of Matt Murdock, aka Daredevil, not knowing that he's actually alive in a nunnery somewhere. Meanwhile, Frank will be looking into the conspiracy that's linked to the murders of his wife and children. It was Karen who helped Frank first uncover the mystery behind their deaths and find the killers, so it really makes sense that she's there for the next part of his journey.
As Frank uses his weaponry to get answers, Karen will probably be doing some digging on her own. She is a journalist after all. Karen has never been too comfortable sitting by on the sidelines, and based on the trailers, she'll definitely find herself in danger once again. Thankfully, Karen has proven she can take care of herself, but it'll also probably help to have Frank by her side.
Along with Karen, Frank will also have a new face helping him figure out this conspiracy. A hacker, who goes by the name, Micro (though his real name is David Lieberman), will also work with Frank. Micro is currently hiding out as he works to reveal the truth about whatever this conspiracy is and who's involved in it. Micro's family believe he's dead, because this was his plan to keep them safe as he works against the government. Together, hopefully this trio will be able to get to the bottom of whatever's going on and make it out alive.
Check out Romper's new video series, Romper's Doula Diaries:
Watch full episodes of Romper's Doula Diaries on Facebook Watch.