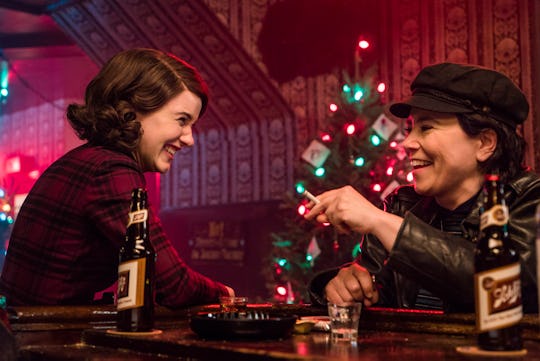 Amazon Prime Video
Season 2 Of 'The Marvelous Mrs. Maisel' Has A Lot In Store For Midge And Co.
When the first season of the Amazon Prime series The Marvelous Mrs. Maisel premiered last fall, fans were immediately enamored with Rachel Brosnahan's hilarious character and her incredible supporting cast. The series, which hails from Gilmore Girls creator Amy Sherman-Palladino, is returning with its second season. So how many episodes will The Marvelous Mrs. Maisel Season 2 be? It looks like this time around fans are in for 10 glorious hours of Midge Maisel.
A quick recap: In the first season, Midge is your standard housewife, living in Manhattan in the late 1950s. She went to college, married a nice Jewish man, Joel, and had two children. Joel works in an office, but dreams of being a stand-up comedian. Midge fully supports this, even bribing an employee at a local cafe that hosts open mic nights to get Joel a good time slot (she does this with her homemade brisket).
But her world is turned upside down when Joel, frustrated with his cookie-cutter life, leaves Midge for his secretary. Midge reacts to this heinous cliché by getting drunk and performing at the cafe, where she impresses Susie, who convinces the disgruntled housewife to pursue comedy as a career with Susie as her manager. What ensues is Midge tapping into her own ruthlessly funny and independent spirit,
The show was first picked up for two seasons by Amazon after the pilot received acclaim in spring 2017. The remaining seven episodes joined it on Nov. 27, 2017, just in time for holiday viewing. At that time, the 10-episode second season was already underway. Following The Marvelous Mrs. Maisel's Peabody Award win in May 2018, it was announced that a third season had been ordered. And for good reason. Critics and regular-folks alike are obsessed with the show.
In addition to the Peabody, The Marvelous Mrs. Maisel won big at the 2018 Emmys. It earned (ready for all of this?) Outstanding Comedy Series as well as Outstanding Lead Actress for Rachel Brosnahan, Outstanding Supporting Actress for Alex Borstein, and both Outstanding Writing and Directing for Amy Sherman-Palladio for the pilot episode. Many Gilmore Girls fans felt that this was Sherman-Palladino finally getting the recognition she deserved for the beloved mother-daughter dramedy, but The Marvelous Mrs. Maisel truly stands on its own.
Early reviews for the second season are outstanding. According to IndieWire's Ben Travers, the new episodes take the viewer beyond the perspective of Midge, allowing the bubbling undercurrent of second-wave feminism to take center stage. The show takes place right around the very start of the movement, so don't expect the writers to ignore a pivotal moment in history.
Another change comes in the form of the location: Midge jets off to Paris (!) for a portion of the episodes while her mother, Rose (Marin Hinkle), gets a bit more attention than in the previous season. But don't worry, The Marvelous Mrs. Maisel stand-up that truly cemented the series as a hit, along with the phenomenal cast (including Tony Shaloub as Rachel's endearing father, Abe) and the signature Sherman-Palladino fast-talking will all return with these ten new episodes, and I wouldn't be surprised if there's another successful Emmy run in the making.
This first-time mom wants to have a home birth, but is she ready? Watch how a doula supports a military mom who's determined to have a home birth in Episode One of Romper's Doula Diaries, Season Two, below. Visit Bustle Digital Group's YouTube page for the next three episodes, launching Mondays in December.