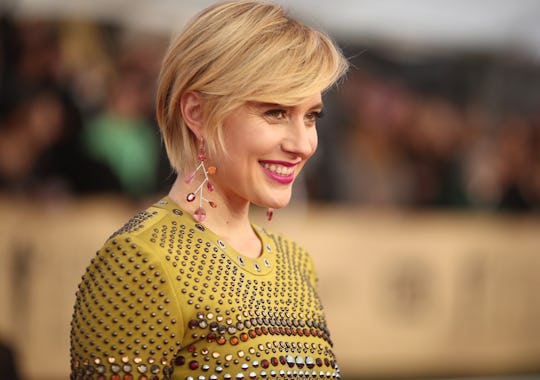 Christopher Polk/Getty Images Entertainment/Getty Images
Female Directors Received Some Love At The 2018 Oscar Nominations
The 2018 Oscar nominations are here and as always there were some surprises and some snubs. However, many people's eyes were on the director category this year, especially after all the nominees at the 2018 Golden Globes were all men. So how many female directors got 2018 Oscar nominations?
Many were hoping, and expecting, Lady Bird writer and director Greta Gerwig to receive the director nomination this year, so many were happy to see she didn't end up getting snubbed. Gerwig's nomination is a major accomplishment for herself, but also for women in general in the industry. Although there's been a lot of headway for women in the field of entertainment this past year, there's still clearly a lot of work left to be done.
Unfortunately, when it comes to working behind the scenes, there's still plenty of room left for a female presence to grow. In the Oscars' 90 years history, Gerwig is only the fifth woman to receive the Best Director nomination. The previous four are Lina Wetmuller (Seven Beauties), Jane Campion (The Piano), Sofia Coppola (Lost in Translation), and Kathryn Bigelow (The Hurt Locker). Of those previous four, Bigelow was the only woman to win and that was eight years ago.
This isn't only a problem seen in the director category, however, but also across the board in any of the behind the camera categories. Back in 2016, the Women's Media Center found that after studying the Oscars for 10 years, women only represented 19 percent of the non-acting nominations. This breaks down to women receiving only 327 nominations (less than one in five noms) behind the cameras compared to 1,387 nominations for men from 2006 to 2015. And this isn't because women are being snubbed at the Oscars; it's because they aren't being hired.
Julie Burton, president of the Women's Media Center, told Variety that "there is a clear connection between the low numbers of women hired behind-the-scenes jobs in film and women's low representation among Oscar nominees." Therefore, it makes obvious sense that if more women were hired, the talent pool for nominations would more accurately reflect the population and audience, more than half of which are women.
That being said, Gerwig's nomination, as well as her nomination for Best Screenplay, this year are definitely big wins for female representation and a great step forward. Along with her nominations, Mudbound director of photography Rachel Morrison was also nominated in the Best Cinematography category this year. She is the first woman to ever be nominated in the category and it's shame it took 90 years for that to finally happen.
Along with history being made behind the scenes this year, people are also noting that Jordan Peele's nomination in the director category is monumental as well. Peele is only the fifth black filmmaker to snag a Best Director nomination, following after Barry Jenkins (Moonlight), Steve McQueen (12 Years A Slave), Lee Daniels (Precious), and John Singleton (Boyz in the Hood). Of course, the time gap between Jenkins' nomination and Peele's is much shorter than that between Bigelow and Gerwig, but to be fair, the first black filmmaker nominated didn't happen until 1991, whereas the first female filmmaker nomination happened in 1975.
Regardless, the point is this year's behind-the-camera nominations are finally starting to see a bit more diversity than it has in the past and it's long overdue. It's time that women, POC, and other minority groups get to have more control in the films that are being made and in how they're being made. Hopefully this marks a step forward in Hollywood and not just a one time fluke.
Check out Romper's new video series, Romper's Doula Diaries:
Watch full episodes of Romper's Doula Diaries on Facebook Watch.