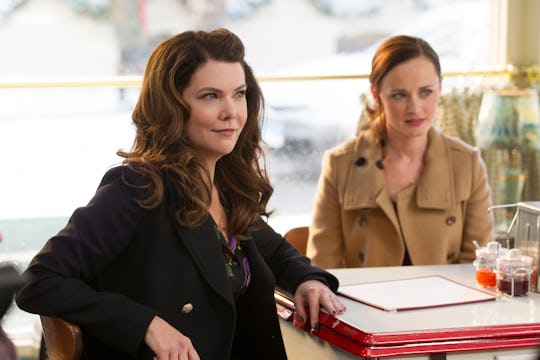 Saeed Adyani/Netflix
How Many 'Gilmore Girls' Revival Episodes Is Melissa McCarthy In? Sookie Is Back
Among the initial and most vital questions surrounding the Gilmore Girls revival when it was first announced was, who from the original series would be making a return to Stars Hollow? It turns out, almost all your faves, but some more than others. So how many Gilmore Girls revival episodes is Melissa McCarthy in? Unfortunately, she's only going to show up for a short time in the series, but frankly I'm just grateful she's going to be there at all.
If you've been following the revival news from the beginning as obsessively as I have, you'll know that there was some question as to whether Melissa McCarthy would show up to reprise her role as Sookie St. James at all. In March, McCarthy told E! News "I didn't actually get asked to do it. But I think they thought I was busy, and then by the time it did come up, then I actually was." But it turns out all the depression and disappointment that followed this crushing statement was for no reason, as at the last minute the producers and McCarthy's team managed to squeeze her in for just one day of shooting. "And literally about an hour and half ago we figured out that I'm gonna go back and do it and I am so excited. And they are gonna be amazing," she said on The Ellen Degeneres Show.
Because she only had one day available, sadly Sookie will only be in the revival for one episode. But never fear, show-creator Amy Sherman-Palladino made sure that that one day that she was available for would totally count. "We had [McCarthy] for one day and of course we threw her, like, a 10-page scene, because, why not?" Palladino said to TV Line. She also added that McCarthy's interactions with Lauren Graham as Lorelai were basically seamless, "because the two of them are like a weird, psychotic Ethel and Lucy when they get together off camera; they finish each other's thoughts and they have a whole physical thing that they do."
Honestly, Stars Hollow just wouldn't be Stars Hollow without Lorelai's best friend, business partner, and world-class chef at their Dragonfly Inn. Even if it's only for one scene in one episode, I'm just so glad that she's going to be back. Sookie was the quirky voice of reason that Lorelai so often needed when she couldn't talk to Rory about something. It's going to be so satisfying to see her back in action.