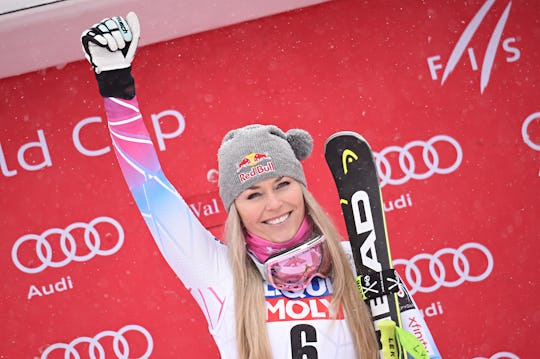 Michel Cottin/Agence Zoom/Getty Images Sport/Getty Images
Curious About How Many Gold Medals Lindsey Vonn Has? Wonder No More
With the Winter Olympics fully underway, you may be wondering just how many gold medals Lindsay Vonn has to her name as she finishes her runs in PyeongChang at this year's games. In 2014, Vonn had to miss the Olympics in Sochi due to injuries, but she is back in action, competing at the 2018 Winter Olympics. So let's just say, whatever the Olympic skier ends up taking home this year will be a nice addition to her already accomplished collection of accolades.
Vonn has a whopping 81 World Cup victories to her name, according to CBS Sports, along with two Olympic medals, one gold. She also has seven medals from World Championships, two of which are gold as well. And she doesn't plan of stopping this dedication and success in skiing at the PyeongChang Olympics.
"I'm so thankful that I'm able to be here, that I'm able to ski and do what I love," Vonn told NBC this week, according to the Denver Post. "I've had a roller coaster the last eight years with so many injuries but I'm here, I'm healthy, I'm able to ski a hundred percent and I'm just very thankful for the opportunity." Vonn is reportedly participating in three competitions for this year's Winter Olympics, according to People, and she has already missed out on a medal for the Super-G alpine skiing event.
It was at the 2010 Winter Games where Vonn won her only Olympic gold medal so far, in the downhill competition, as reported by Oregon Live.
For the 2018 Super-G competition at the PyeongChang Winter Olympics, Vonn was the first racer to hit the slopes, as reported by People, which she said was actually a major disadvantage. With that said, it's no wonder she didn't end up with a medal for that event.
Recently, Vonn revealed in a tweet that her late grandfather has been her motivation to win. In an interview with NBC she explained:
I'm skiing for him. He's been such a big inspiration in my life. It's hard for me that he's not here. I wish he was. I ski with his ashes. I just want to win for him.
Vonn also said that her grandfather and dad's influences instilled a strength within her. People reported that Vonn said her family does not quit and failure is not in her vocabulary.
The New York Times recently reported that people call Vonn the world's greatest skier, saying that with a reputation like that, does she even need the Olympics? Whether or not Vonn needs the Olympics, her fans are cheering her on nonetheless and really want her to bring home the gold.
Vonn's Fans Really, Really Want Her To Win Another Gold Medal At The 2018 Winter Olympics
So, what is Vonn's secret to being such an amazing skier? Besides determination, hard work and raw talent, of course. Apparently, Vonn applies certain strategy to her races, even trying to play mind games. According to USA Today, Vonn told NBC, "In skiing there are a few things you can do to play mind games so I use every opportunity."
NBC Olympics also reported that Vonn wrote secret messages on her Olympics snow suit. She reportedly has the word "believe" written in Greek, which is also a tattoo she has on the inside of her finger. Vonn told NBC that it reminds her to believe in herself as she competes. And on her helmet, she has the initials "D.K." with a heart. This is to honor her late grandfather, Don Kildow. In an interview with The New York Times, Vonn recently said:
I came into the spotlight at the Olympics. I won a gold medal at the 2010 Olympics that changed my life. It all helps establish a legacy.
Hopefully, Vonn can take home another gold medal in PyeongChang, but even if she doesn't, how many people can say they have even just one Olympic gold medal, right?
Check out Romper's new video series, Romper's Doula Diaries:
Watch full episodes of Romper's Doula Diaries on Facebook Watch.