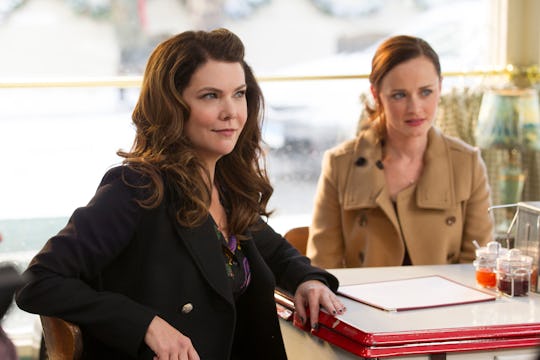 Saeed Adyani/Netflix
How Many Golden Globe Nominations Did 'Gilmore Girls' Get? They Were Snubbed
The moment Gilmore Girls fans had waited years for finally came this year when the Gilmore Girls revival was released on Netflix in November. Fans got to see almost every single one of their favorite characters return, including all the Gilmore girls, Lane, Paris, all three of Rory's exes, Luke, Michel, Sookie, and so many others. The four part series was not only filled with fan favorite characters, but also delivered little throwbacks to the original series that fans and critics appreciated. So with awards season now here, many of you are probably wondering how many Golden Globe nominations the Gilmore Girls revival will get, if any.
Although most fans are desperately asking for a second season of the revival after the reveal of those last four words left the show on a bit of a cliffhanger, overall the response to the show was mixed. While some loved it, many did not. From Rory and Logan's on-going affair to the musical that felt much too long, some fans were disappointed with revival and didn't feel it was worth the wait. Despite the negative feedback, Lauren Graham and Kelly Bishop both did some of their best work in the revival and fans expected either one or both of them to get a nomination. Unfortunately, neither of them were able to snag a nomination. In fact, Gilmore Girls: A Year in the Life wasn't nominated at all.
Throughout the series' first run, Gilmore Girls only ever received one Golden Globe nomination back in 2002 for Best Performance by an Actress in a Television Series, Drama for Graham. Although the show is much loved by it's fans, it's never really gotten love during awards season and fans were hoping this year would be the year. However, based on the revival's lack of even one nomination for the Golden Globes, it's not looking good for the limited series.
Of course, the revival was never really about the awards though. It was very much done for the fans who felt cheated when the series ended without creator Amy Sherman-Palladino and her mysterious last four words. Still, it would've been nice to see at least Graham get some of the recognition she so truly deserves. Lorelai's monologue about her favorite memory with her late father, Richard, was enough to make me feel like she'd at least get nominated. Unfortunately, it just wasn't in the cards this time around. Maybe this is even more of a reason to have a Season 2? Hey, a girl can dream, right?