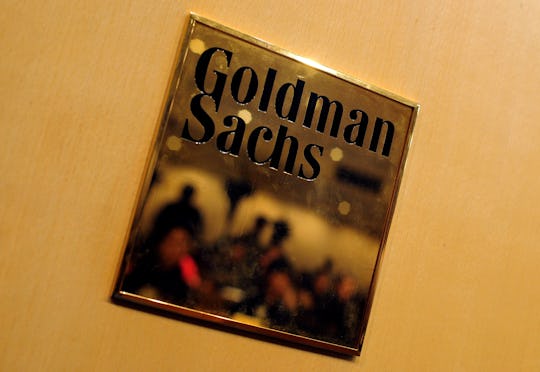 RICHARD A. BROOKS/AFP/Getty Images
How Many Goldman Sachs Employees Is Trump Hiring? More Than His Supporters Might Expect
President-elect Donald Trump might have campaigned with a populist message and a repeated pledge to "drain the swamp." But since the election, his personnel picks tell another story. He rode a wave of working man's anger at big banks and establishment politics to the White House, but he appears to be filling the top jobs in his administration with nothing but Goldman Sachs bankers and establishment-types. How many Goldman Sachs employees will work for Trump? It's probably more than you might have imagined Trump would hire.
"I know the guys at Goldman Sachs," Trump said at a South Carolina rally last February, according to New York Magazine. "They have total control over Hillary Clinton."
And it helped his poll numbers, even among Democrats. According to a Gallup poll from last September: "Clinton's weakest point among registered Democrats is on the issue of government regulation of Wall Street and banks, on which slightly less than one-fifth of Democrats prefer Trump." Here's a look at just a few of the tweets candidate Trump sent out trashing Goldman Sachs. One tweet, sent last January trying to tie Texas Sen. Ted Cruz to the bank, read:
Is Cruz honest? He is in bed w/Wall St. & is funded by Goldman Sachs/Citi, low interest loans. No legal disclosure & never sold off assets.
Yes, he actually criticized Cruz for not selling off his assets before taking office, which is painfully ironic now, since Trump has refused to do the same.
But that was the campaign, and now Trump has an economy to run, and, just a month after his election, he's already picked three Goldman Sachs bankers for his Cabinet: adviser Steve Bannon, Steve Mnuchin for Treasury Secretary, and on Friday, Gary Cohn, Goldman Sachs' current COO for director of the National Economic Council, according to New York Magazine.
And it's not just Trump's attitude that's changed. In September, Goldman Sachs CEO LLoyd Blankfein remarked that the idea of Trump's "finger on the button blows my mind." according to CNN. Since the election of Trump, Goldman Sachs stock has shot up more than 30 percent, according to MarketWatch. And Blankfein is having a bit of a change of heart.
"He's a very smart guy, a businessman…I am not pessimistic at all because he won," Blankfein told Handelsblatt. "Mr. Trump may turn out to be a much better president than anyone else might have been in that place. He's just less of a known quantity as a politician."
OK.
Josh Barro from Business Insider pointed out on Twitter that maybe Trump's appointment of what is already shaping up to be the richest Cabinet in American history isn't as far of a departure from his campaign promises as it may seem: "Trump's promise isn't to cut Wall Street/business barons down to size," Barro wrote in a tweet Friday. "It's to spread their prosperity to all. Hasn't broken the promise yet."
It's true there is plenty of prosperity to spread around among the incoming Trump administration. Billionaire Betsy DeVos has been nominated for Education Secretary and is from a family worth more than $5 billion, according to the Washington Post. Commerce Secretary nominee Todd Ricketts is from the billionaire family that owns the Chicago Cubs, according to the Post. And Andy Pudzer, the CEO of CKE Restauants, which operates fast food restaurants including Carl's Jr. and Hardees has been nominated by Trump for Labor Secretary, according to The Daily Beast. Mic reported that Pudzer made more than $10 million in 2011 alone and owns more than $25 million in shares for Chinook Energy, an oil and gas exploration company.
Voters will have to see if this group of rich folks will be able to deliver improved economic conditions to working Americans.
But, as conservative commentator David Frum ominously pointed out in the tweet above, perhaps Trump's Goldman Sachs banker appointments shouldn't be what concerns Americans most. "Weird to be more alarmed by its (Goldman Sachs') influence than say, Vladimir Putin's," Frum wrote.
Now all eyes will be on the Senate and how easily Trump's nominees will be confirmed. Stay tuned.