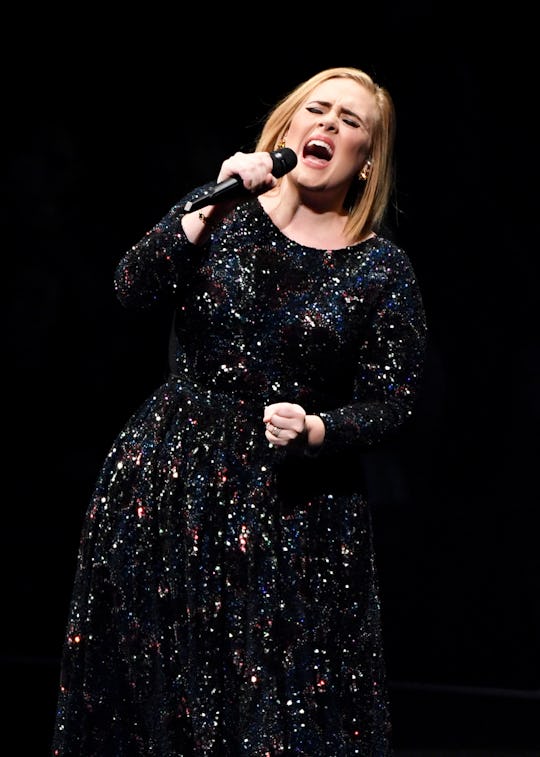 Ethan Miller/Getty Images Entertainment/Getty Images
How Many Grammys Has Adele Won? She's Continues To Control The Airwaves
Adele made us all say "Hello" to our exes this year with her hit single, "Hello." That woman's voice clearly has a power over us all. She's like a modern-day Hocus Pocus enchantress beckoning us to contact our exes. And now that the Grammys are coming up this February, everyone is placing their bets on who will take home a tiny gold-plated gramophone. It's not a shocker that Billboard predicts that the songstress will need some more room in her display case this year. I mean, asking how many Grammys Adele has is like asking how many kids are on 15 Kids and Counting. The artist's vocals easily "turn [her] sorrow into treasured gold," and by gold, Adele must mean Grammys.
The "Someone Like You" singer has won a whopping 10 Grammy awards — thus far in her career. Ever since 2009, she has won Grammys for the following categories: "Best New Artist," "Best Female Pop Vocal Performance," "Album Of The Year," "Best Pop Vocal Album," "Record Of The Year," "Song Of The Year," "Best Short Form Music Video," "Best Pop Solo Performance," and "Best Song Written For Visual Media."
As Billboard said, she even won the "top album prize" in 2012 for 21. Then again, that's not really a huge surprise, is it?
Adele's success springs from the emotion that is embedded into her lyrics. Her songs simply make you feel things. They unbury memories you've plugged 6-feet under, and awaken a longing for lovers of the past. In other words, they are not only beautiful, but are DANGEROUS, and infectious. And if you haven't completely succumbed to every album she has written, you have been warned. The tracks crawl into your head like an ear worm you can't surgically remove. If you're still healing from a breakup, I suggest waiting to take a listen. If not, you could be caught sobbing on the other end of your smartphone, or if you want to go full Adele: a telephone booth.
(That's not wind blowing above, that's just Adele's voice blowing herself away).
Radio stations should sponsor, and host support groups for Adele fans, I'm serious. She is undoubtedly an exceptional performer and singer, but that talented "devil woman" owes me some emotional reparations, and phone bills.