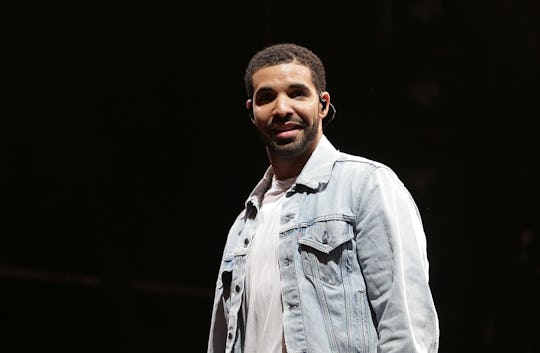 Mark Metcalfe/Getty Images Entertainment/Getty Images
How Many Grammys Has Drake Won? He Has A Song Named After Them
When Drake released his much anticipated album Views last week, fans were ready to dissect every word. He's known as a lyricist so surely, much like Beyoncé's Lemonade, there was some deciphering to be done to figure out what the Canadian rapper has been thinking about. On a track with Future, "Grammys," the two artists proudly talk about the fruits of their careers. But how many Grammys has Drake actually won? Oddly, Drake has only won one statue for his album Take Care in 2013, even though it was released in 2011.
It's no wonder that he has awards on his mind, though. Drake has been nominated for a Grammy 27 times, starting with a Best Rap Song for "Best I Ever Had" in 2010 and culminating with multiple nominations from the Academy in 2016, for collaborations with Nicki Minaj, his own single "Energy," and a nod to If You're Reading This Its Too Late for Best Album. If Drake has been the favorite "new" rapper since his debut in 2009, this year, Kendrick Lamar was hip-hop's favorite, winning 5 awards out of his 11 nominations this year. Music is like fashion. In the words of Project Runway's Heidi Klum, "one day you're in, and the next day you're out."
The song "Grammys," though might be more about Future than Drake. The newcomer takes over the chorus of the song, claiming some bragging rights and rapping about he's got things so good when he goes about town that people will think he's won a Grammy, which he hasn't, despite his critical and popular success. Then again, in the song, both stars seem to not really care about winning trophies. In a 2015 track with Big Sean, "Blessings," Drake raps that he could "give two f--cks 'bout where the Grammys go." So maybe he didn't feel snubbed for "Hotline Bling" after all this year.
Actually, he doesn't seem to care at all. In 2014, the rapper took to Instagram to give out his own "Hood Grammys," acknowledging hip hop's biggest names, singles, and albums that most definitely weren't going to be honored at the mainstream awards show. He gave shout outs to Bobby Schmurda that year for Best Vocal Performance, Party Next Door for Best Mix Tape, and created another category for "best all around turn up," which he awarded to OG Maco for "U Guessed It" that year. He wrote, "haaaaa Grammy's need to have a rap year. Run it up," with the #HoodGrammys hashtag.
He's probably right. But when it comes to hip hop, the artists and songs that actual fans of the genre love every year are often ignored by the National Academy of Recording Artists. Drake and Future's "Grammys" collaboration on Views reflects that, in that they're both sort of mocking the award but kind of wanting one (who wouldn't?).
Whether or not Views is Grammy worthy is still up for debate. But it doesn't look like Drake or Future will have any worries about accepting an award next year for their work.